Despite the uniform single market, rail transport in the EU remains a patchwork affair due to differences in the electricity and safety systems of railways. Thanks to multi-system locomotives and bilingual train drivers, DB Cargo has now made a crucial contribution to improving the quality of services for the border crossing between Germany and Belgium.
Railways in Europe currently use five different electrification systems. That means the only borders that a DB Cargo locomotive from Germany can cross are the ones into Austria and Switzerland. Traction units designed for the German system of alternating current at 15,000 volts and a frequency of 16 2/3 hertz can theoretically reach Norway and Sweden, as well. Belgium, on the other hand, belongs to the larger group of countries that operate their network with 3,000-volt direct current, effectively closing off the route to the major seaports for anything but multi-system locomotives. Added to that is a requirement that train drivers must have a strong mastery of the relevant national languages.
Costly changes
In the past, these factors meant that both locomotives and drivers had to be swapped at the border for rail freight traffic to and from Antwerp, which is vitally important for the German chemical and mineral oil industries in particular. One source of errors and delays is that a locomotive and a driver from the relevant country must be available at the border, even though a border as such no longer exists. If, for whatever reason, the train does not make the time window agreed upon, both are usually withdrawn and used elsewhere. DB Cargo came up with a simple solution to the problem: its recently purchased multi-system locomotives turn crossing borders into smooth sailing. Similarly, the train drivers now work all the way from Cologne-Gremberg to Antwerp Noord, no longer just to the border crossing in Aachen. The Belgian railway licence from DB Cargo Belgium, which enables international traction and the use of bilingual train drivers, also comes in handy.


"With multi-system locomotives, our cross-border connections are reliable and just-in-time."
Charlotte Hieronimi, Senior Account Manager, DB Cargo BTT


Just-in-time
"A German chemical giant is one of the firms that are pleased to see the change. This is exactly what the company wanted, so it renewed its existing contracts for single wagonload and block train links between its sites and the port of Antwerp ahead of schedule," reports Charlotte Hieronimi of DB Cargo BTT. This change also benefits the regular transports of other chemical and mineral oil customers at DB Cargo. The trains facilitate the particularly safe, reliable and timely shipment of hazardous goods such as caustic soda or vinyl acetate monomer (VAM), as well as fuels such as diesel.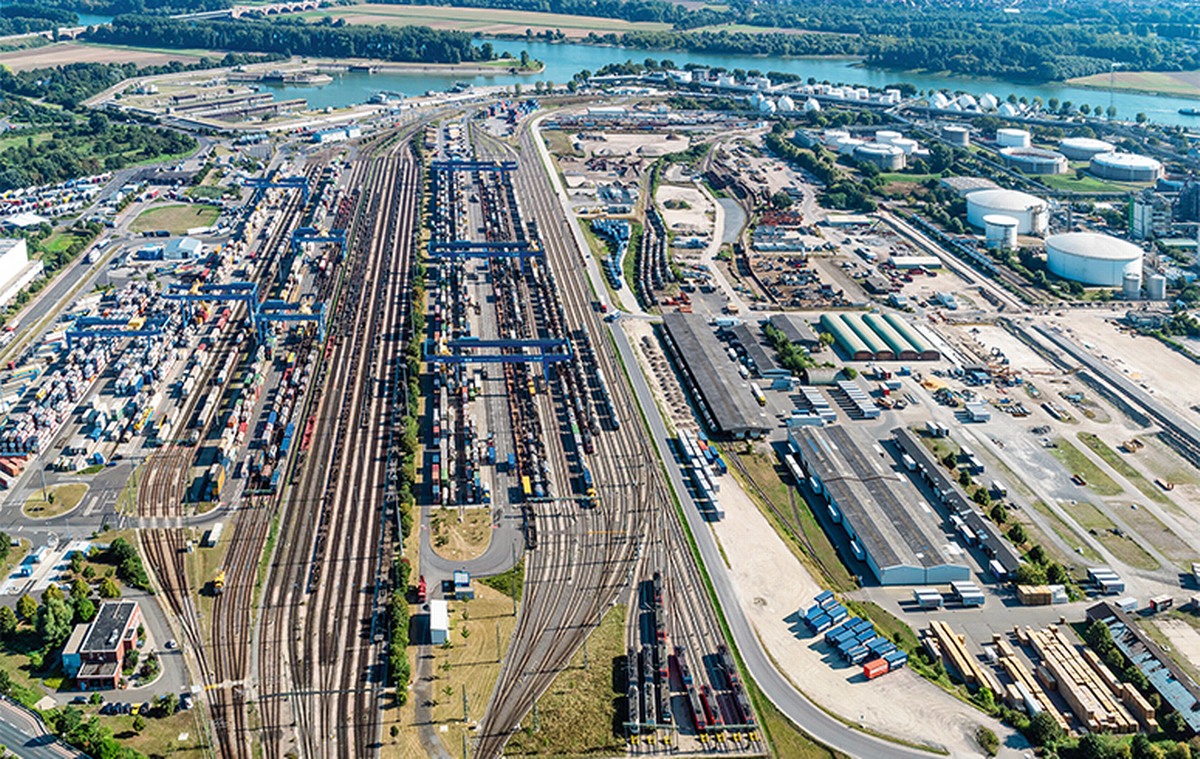 Chemical transports to desti-nations all over Europe start from the intermodal terminal in Ludwigshafen. Copyright: BASF
Multi-system locomotives
For the foreseeable future, high investment costs will block countries from making the switch to the system of 25,000 volts, 50 hertz alternating current that the EU Commission has set its sights on since 2014. This makes multi-system locomotives the only option presently available for handling cross-border transports more efficiently for customers.

DB Cargo already owns 100 of these Siemens Vectron locomotives, each of which is equipped with several "national packages" that allow it to cover longer distances across Europe. DB Cargo can thus meet the demanding requirements of its customers while guaranteeing that customer-specific supply chains remain secure.