Shunting staff, wagon inspectors, train drivers and dispatchers have given their all to ensure that the chemicals industry can continue production throughout Germany and Europe, even in the middle of the Covid-19 pandemic. The sector's finely tuned supply chains are currently more important than ever. DB Cargo transports a wide range of basic chemical products that are essential for manufacturing disinfectants and cleaning agents, all of which are now in high demand.
Friction-free supply chains
Dieter Baierle is in charge of the chemicals sector team at DB Cargo BTT. "Any interruption in the supply of basic chemical products would definitely pose a serious threat in the middle of this pandemic," he says. "The unprecedented situation we find ourselves in makes the hard work of our employees in transport services so important. What they do benefits us all in two ways: they ensure that the supply chains of our customers in the chemicals sector continue to function efficiently, and that we can keep essential products moving for the public."
Throughout the crisis, employees from DB Cargo and DB Cargo BTT have safeguarded freight flows for Europe's chemicals producers. Baierle says, "We have more than 180 customers in the sector, we connect well over 300 dispatching and receiving locations, and we move more than 13 million tonnes of chemical freight every year. Our single wagonload network handles some 70% of this volume."
Systemic importance: the chemicals industry
Thomas Pieger, head of DB Cargo BTT's sales and operations centre, continues: "An integrated system is like a house of cards. Let's take southeast Bavaria as an example: if one of our major customers there ran out of just one of the many substances it uses in production, the company would have to shut down its entire plant at short notice." This would also have a knock-on effect, and a plastics manufacturer in the same region would have to cut back production. Pieger elaborates: "There would then be a shortage of polyethylene at a different plant that produces packaging for toiletries. Meanwhile, another site would be unable to maintain glycol production. Glycol is an essential component in disinfectants." This domino effect could, potentially, be endless. "Without their supply chains, companies would have to stop manufacturing chemical compounds and product lines, including the hygiene and pharmaceutical products we so urgently need right now.
After all, 99% of this industry's work contributes to our supply of essential articles." Demand for sodium hydroxide solution, hydrogen peroxide and chlorine is particularly high right now. Chlorine is a key component across the entire sector, Pieger points out: "It is in the detergents that are used for cleaning buses and other public transport vehicles across Germany." It also plays an important role in the medical and pharmaceutical industries as one of the basic ingredients for making PVC. This in turn is used for manufacturing tubes such as those needed for respirators.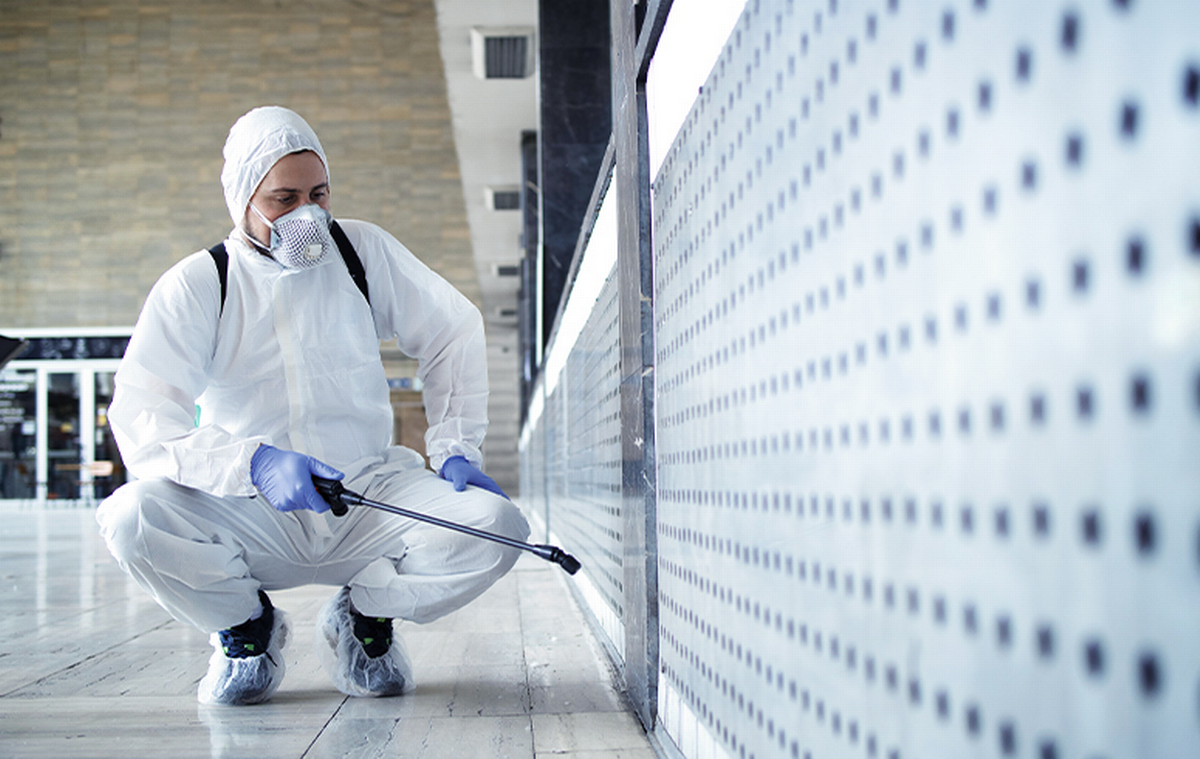 Disinfectant has become a scarce commodity due to Covid-19. Copyright: Adobe Stock
Trouble-free, cross-border, multi-system
What Dieter Baierle and Thomas Pieger have to say about stable transport chains also applies to cross-border services, particularly on routes to and from Rotterdam and Antwerp. Dutch ports are also the source of raw materials needed by Germany's manufacturers, which in turn load trains with chemical products bound for export. Previously, locomotive and driver alike had to be replaced when a train reached a border crossing, but the new multi-system locomotives introduced in December 2019 mean that international transports can cross seamlessly between countries without stopping.
For many of DB Cargo BTT's customers in Germany's chemicals and mineral oil sectors, this represents a tremendous asset. "We do everything possible so they can always rely on our services during this crisis," says Baierle, whose team holds daily conference calls with these firms. "Thanks to continuous communication with these customers, and above all thanks to the absolute dedication of our employees on the operational side of things, we have been able to prevent the pandemic from disrupting these important and fragile supply chains."
Social distance and close bonds
A strong sense of solidarity is a hallmark of the chemicals industry, as each company is just one part of a network of businesses that all depend on one another. "If one card is missing, then the whole house collapses. It doesn't matter if it's a major player, SME or logistics provider," says Baierle. Pieger adds, "Our customers are incredibly appreciative of the tireless commitment shown by our colleagues each and every day. By working together, we have managed to adapt every process as required. We use disinfectant and gloves in our operational activities, and we maintain social distancing. But when it comes to our business relationships, we are closer than ever to our customers."