The train pulls up in Gernsheim am Rhein, on Hafenstrasse. The street's name – Hafenstrasse, meaning port street – is apt. An industrial park is located here and, adjacent to it, a small port used by companies nearby. Solvadis distribution is located right in the middle of the industrial park. The company warehouses liquid chemicals such as mineral oils, solvents and alcohols, and it supplies them to pharmaceutical companies, the chemicals sector and companies in other industries such as metal processing. At Gernsheim, solvadis operates a trimodal chemicals tank farm to provide services for its customers and for its own use. The tanks have capacities ranging from 50 to 2,000 m3. The farm also includes a filling station for intermediate bulk containers (IBCs) and drums. To top it all off, solvadis now has its own private siding as well. Having your own siding used to be a matter of course. Testament to that fact are the rails, now grown over with grass, running through industrial sites. Today, congested roads and ambitious climate targets are giving private sidings a new lease of life. Detailed analysis is needed to identify the threshold at which a siding will become a profitable investment. For solvadis, at any rate, it already is.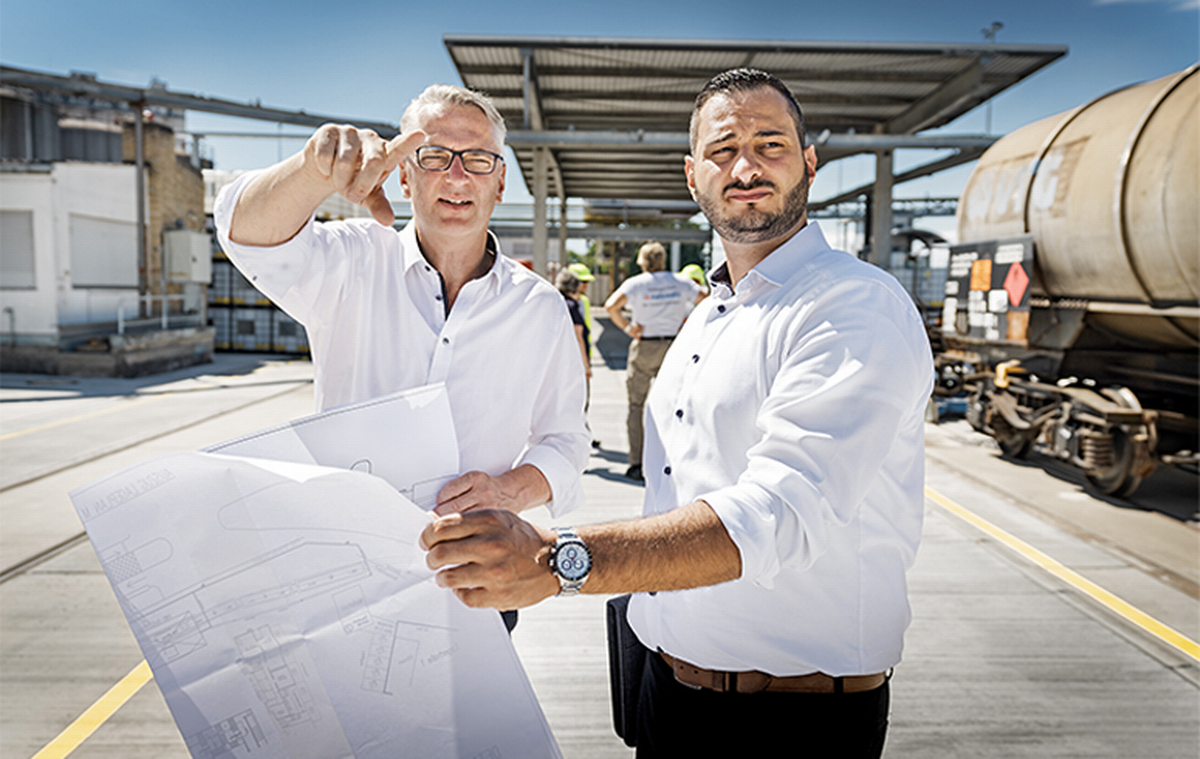 Independence: companies set their own schedules for loading activities. Copyright: Oliver Tjaden

Private sidings offer flexibility
Railway tracks run from the road through the large steel gates onto the company's premises. Freshly painted road markings indicate that construction work has just recently ended. The tracks are new, as are the road surface and cutting-edge filling points. The technology complies with the latest safety regulations. Solvadis has used the opportunity afforded by the building work to make all kinds of upgrades. Georg Lammers is the supply chain director at solvadis. Having overseen his company's side of the project, he is proud of the results. "Here at Gernsheim, we can load cargo from ships, lorries and our warehouses onto trains – and vice versa. Our trimodal facilities mean that we can fulfil almost any order we get from our customers. Our aim has been to become more flexible and more eco-friendly, so we have stepped up our use of railways to transport our cargo. We've absolutely achieved our goal – the change has made our operations faster, safer and more reliable. What's more, we can now fulfil more orders and respond better to fluctuations in demand. This means we have been able to substantially increase availability levels of our products for our customers, which is a win for them, our company and our staff." According to Ercan Lawrenz, customer support agent at DB Cargo, "In previous years, solvadis distribution would use DB Cargo to dispatch a few single wagonloads. However, this required a lot of work in terms of shunting. Solvadis has now opted for a direct link to the rail network, which shows how a company can use private sidings as an additional service. This change has refocused solvadis's transportation model on increased sustainability while simultaneously expanding its capacity to ship larger volumes of product. It's the ideal combination – by protecting the climate, we're also contributing to our customer's success. Having a private siding also makes the operational side of logistics much easier. That's because one freight wagon can replace up to three heavy goods vehicles, depending on the wagon type and freight in question."
Tank wagons full of disinfectants run right up to the plant
The company's present success was preceded by the planning and building phases. Isn't installing a private siding too big an undertaking to expect from a company of this size? Georg Lammers nods. This consideration also played a role at solvadis, and he was secretly apprehensive of running up against a lot of bureaucracy. How long did the planning and approval process take? What have the hurdles been? Is it possible to build a private siding fast enough to keep costs from skyrocketing? Today, the supply chain director has a relaxed view of the whole journey. "Really, it couldn't have gone any better," Lammers says. "That goes for the commissioning stage in particular. The timeline was tight, but it went smoothly. DB Cargo put together an incredibly capable team with the right experts who had a lot of experience under their belts. Everyone sang from the same hymn sheet, and everything went like clockwork. DB Cargo handled a lot of the work on our behalf and managed important pieces of the project behind the scenes. There were so many aspects we didn't even have to bother with." This came just in time, too, because as the pandemic set in, tank wagons carrying urgently needed disinfectant were able to depart straight from the company's facilities.
Since the track used to be short, the process of filling tank wagons required a lot of shunting at solvadis until the company built its own private siding. Today, having a private siding allows the company to satisfy increasingly voracious demand for its products. It has also generated important added value. Supply chain director Georg Lammers explains: "Thanks to our services, our customers no longer need to invest in large tank and warehouse solutions. They can precision-order the volumes they require. This is all the more important because we have seen fluctuations in demand become more frequent at many companies. We create a cushion for our customers, and if they place a new order, we can respond flexibly. In this way, we have been able to considerably increase supply security for our customers."
From Sub-Saharan Africa to the Rhine
At the moment there is a tank wagon waiting to be filled with methanol on track 3. Georg Lammers describes a typical example of freight flows in a globalised world. "This product has been on an odyssey. Large methanol production plants are located overseas, so the alcohol is shipped to Antwerp on gigantic tankers and then arrives at our storage facilities either by train or on barges which travel down the Rhine. The moment our customer needs the product, we can use our new siding to fill tank wagons quickly. It's an incredibly efficient way to send individual wagons on their journey." A shunting aid is used to position tank wagons underneath the filling unit, and then an employee opens the hatch atop the wagon. Next, a large, crane-like arm is lowered into the tank. Wolfgang Schül is an operations manager at solvadis. According to Schül, "These wagons are equipped with all kinds of intelligent technology, sensors and a vapour return feature. That last feature is necessary because the solvents, mineral oils and alcohols we store here are hazardous substances. Even during filling and pumping, safety always takes priority, though these vapours pose only a low-level risk." "Modern technology serves to avoid human error and ensure no gases or liquids escape," says Schül, describing the principle. Once the tank wagon is full, the shunting aid is deployed again to roll it out of the way.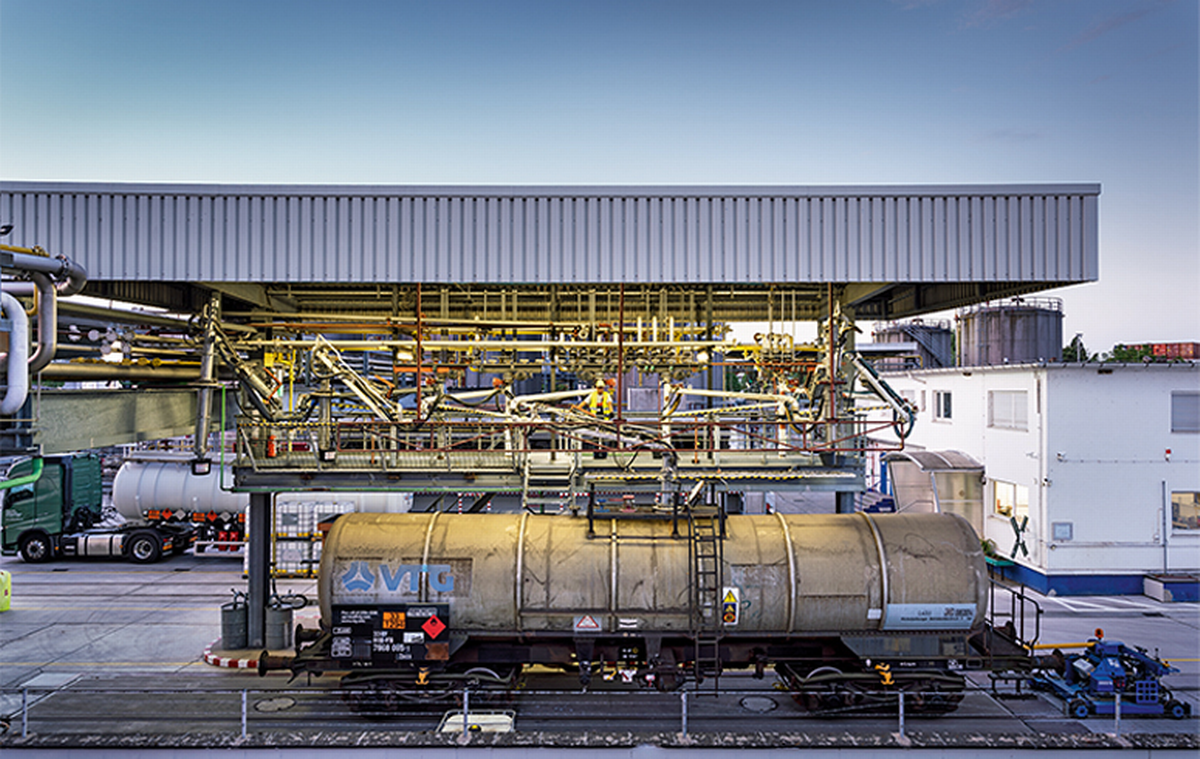 Preparing a tank wagon for filling at solvadis's private siding. Copyright: Oliver Tjaden

Single wagons give you the flexibility you need
Using the same safety equipment, solvadis can load two tank containers onto one tank wagon. Wolfgang Schül beams with pride as he talks about the company's new, bigger transhipment area. "Even if customers don't have a rail link of their own, they can use a rail tank wagon purely as a service," he says. This offer has met with strong demand. Once the tank wagons have been filled, a shunting locomotive collects them the very same day. When the wagons reach the nearest train formation yard, DB Cargo couples them with wagons heading in the same direction and feeds them into its freight network. The decisive argument tipping the balance toward rail at solvadis was the flexibility of single wagonload transport.
solvadis recognises the clear advantages rail offers over road transport. These include climate and environmental protection as well as the safe transport of dangerous goods. Describing the company's motives, Lammers says, "We want to make our contribution to reducing the number of lorries on roads. That applies to both our products and to direct shipments for other customers." Both he and his DB Cargo customer support agent Ercan Lawrenz believe solvadis and DB Cargo will be able to increase volume levels while also counting on reliable, flexible service in future. "We will grow together, and DB Cargo's digitalisation campaign will also help us on our way," says Lammers.
Block trains unlock rail's full potential
This year, block trains will also be rolling onto their own private sidings at the tank farm. The track is long enough to load and unload groups of wagons and block trains quickly and efficiently. This is crucial for coping with uncertainties such as the coronavirus lockdown or low water levels on inland waterways. Solvadis distribution can now supply its customers with essential raw materials by rail at any time.
At what point is a train considered to be a block train? A typical length is roughly 20 wagons. The exact number isn't critical. Much more important is that they traverse their entire route as a single unit from start to finish. DB Cargo defines block trains as trains carrying a load of around 1,000 tonnes net or more. Fully laden, a block train can take the place of up to 52 lorry journeys, thereby realising the full potential of the rail network. What's more, even though block trains can haul larger quantities, they are also up to 60% faster than lorries.
Combined transport protects against delivery bottlenecks caused by low water levels
Since even block trains can fit on solvadis's private siding, the company now has the capability to directly switch between individual modes of transport, tranship goods and offer these services on the market as well. The company's liquid chemical products will be moved between modes of transport in a hermetic system, which will prevent them from coming into contact with the outside world. Construction projects have not just expanded track capacity, but also the transhipment yard.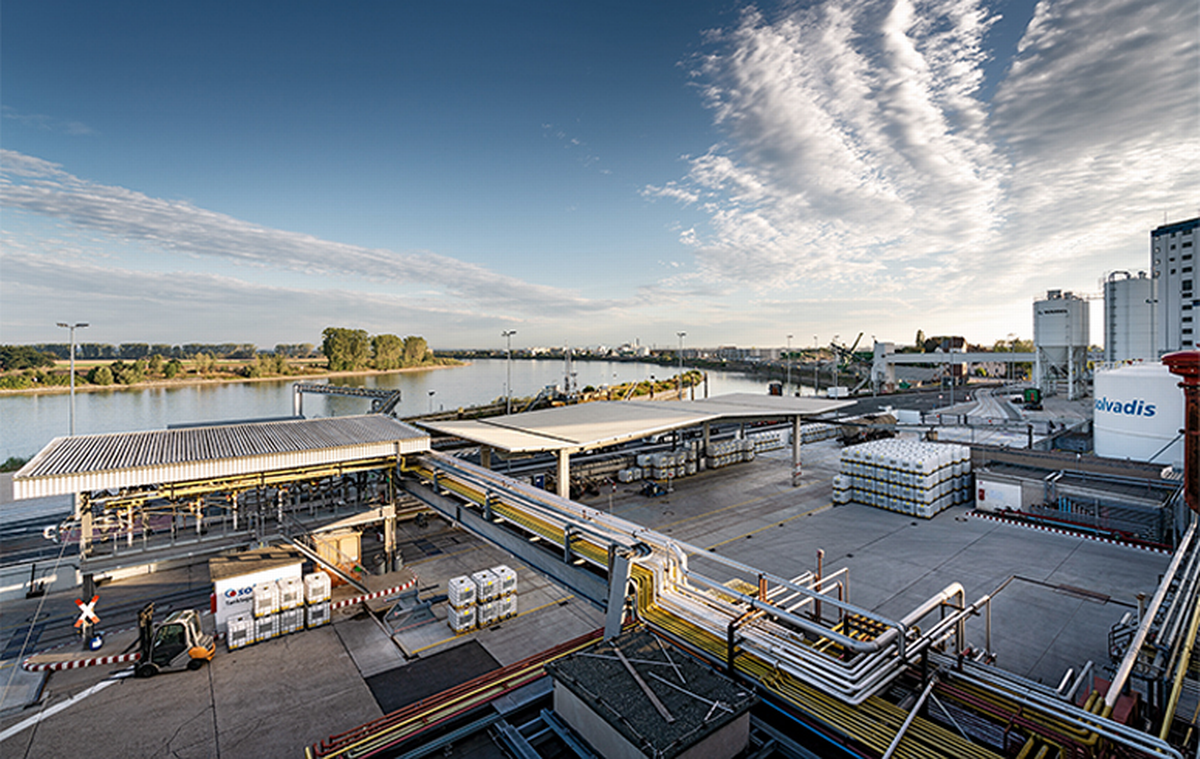 Trimodal transhipment yard: inland waterway vessels empty directly into tank wagons or lorries. Copyright: Oliver Tjaden

The local port management company has expanded the port accordingly to offer maximum flexibility for inland waterway vessels, too. To achieve even greater flexibility, the company has already placed an order to expand its tank farm capacity by 5 x 2,500 m3. At the Gernsheim tank farm, inland waterway vessel and rail transports are usually combined by direct loading and transhipment, but preparations are increasingly being made to handle low water levels in the Rhine, which have become more common. The company is expanding its use of railways to protect its customers from foreseeable problems like this.
GPS reveals where wagons are positioned
Digital solutions also have a role to play in making solvadis fit for the future. Since commissioning its own private siding, solvadis has used the digital link2rail solution. Most of its tank wagons are already fitted with GPS sensors, and the rest of its fleet is currently in the process of being upgraded. Once this work is done, the company will be able to track their locations via link2rail. This information lets dispatchers at solvadis know when tank wagons will be ready for more journeys. One thing is particularly important for intermodal and international connections: the more accurate the information about a consignment's arrival time, the better customers can prepare for it. Similarly, it becomes easier to make precise plans for subsequent transport runs.
The team at DB Cargo's service centre provides customers with assistance in their day-to-day business activities, while customer support agents are experts with long-standing customer relationships and find the right solution for every situation. This also applies to our work with solvadis. "Digital is our preferred medium, and we're delighted that DB Cargo is expanding its range of digital services. Digitalisation makes many processes more flexible and efficient. At the same time, having excellent personal relationships and receiving assistance from a dedicated support agent who knows our business are a great help whenever an important issue arises. We really noticed this when we were planning our private siding," says Georg Lammers, supply chain director at solvadis distribution. When we start a digitalisation project, our primary focus is on how the project will benefit our customers, not how technically feasible or innovative it is. Put another way, we ask ourselves, "Will this solution save our customer time or money?"
This customer-focused approach is what makes solvadis's logistics successful. With new ideas and DB Cargo standing by as a strong partner, the company is well positioned for the future, too.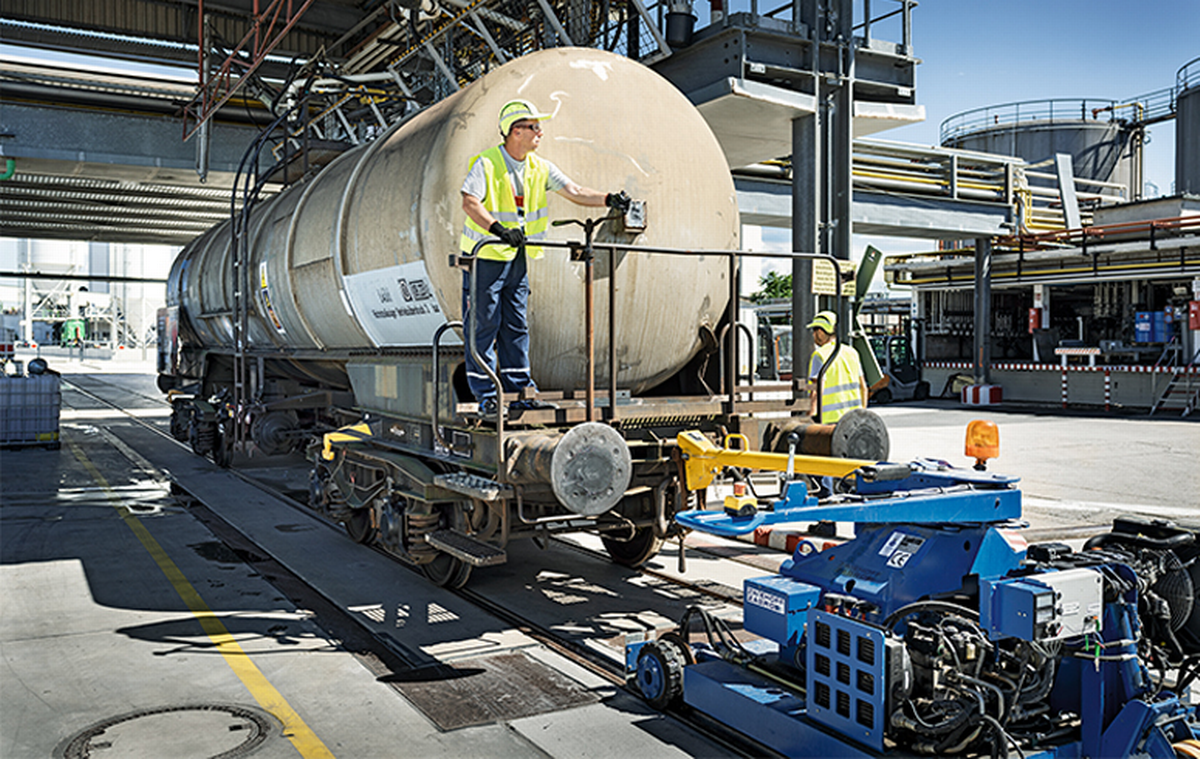 A shunting aid is used to move wagons on the tracks. Copyright: Oliver Tjaden