Special profiles out of steel are fashioned from raw materials – steel coils that weigh several tonnes. They are used in sectors such as the automobile industry, renewable energy production and construction. As the profiles are bulky and heavy, Austrian firm Welser Profile relies on DB Cargo for deliveries.
Bönen, in the district of Unna, lies at the edge of the Ruhr District – in Germany's steel country. Welser Profile Deutschland GmbH, based in the Austrian town of Gresten, also has a site here. After all, Welser Profile is a leading producer of special profiles and special profile tubes in Europe. To date, the company has manufactured more than 23,000 cross-sections. This also means that steel, the raw material needed for the profiles, must keep coming. "Securing an adequate supply of steel is crucial for us," explains Joern Miklas, SCM Manager at Welser Profile. The raw materials come from sources within a radius of about 300 km, and the bulky and often long profiles are eventually delivered to customers worldwide. At its headquarters in Austria, Welser transports 85% of all inbound shipments by rail. It's a matter of principle for the company: "As we see it, rail combines sustainability with very solid options for loading and unloading. A single car on the rails replaces two lorries, so you can handle large volumes."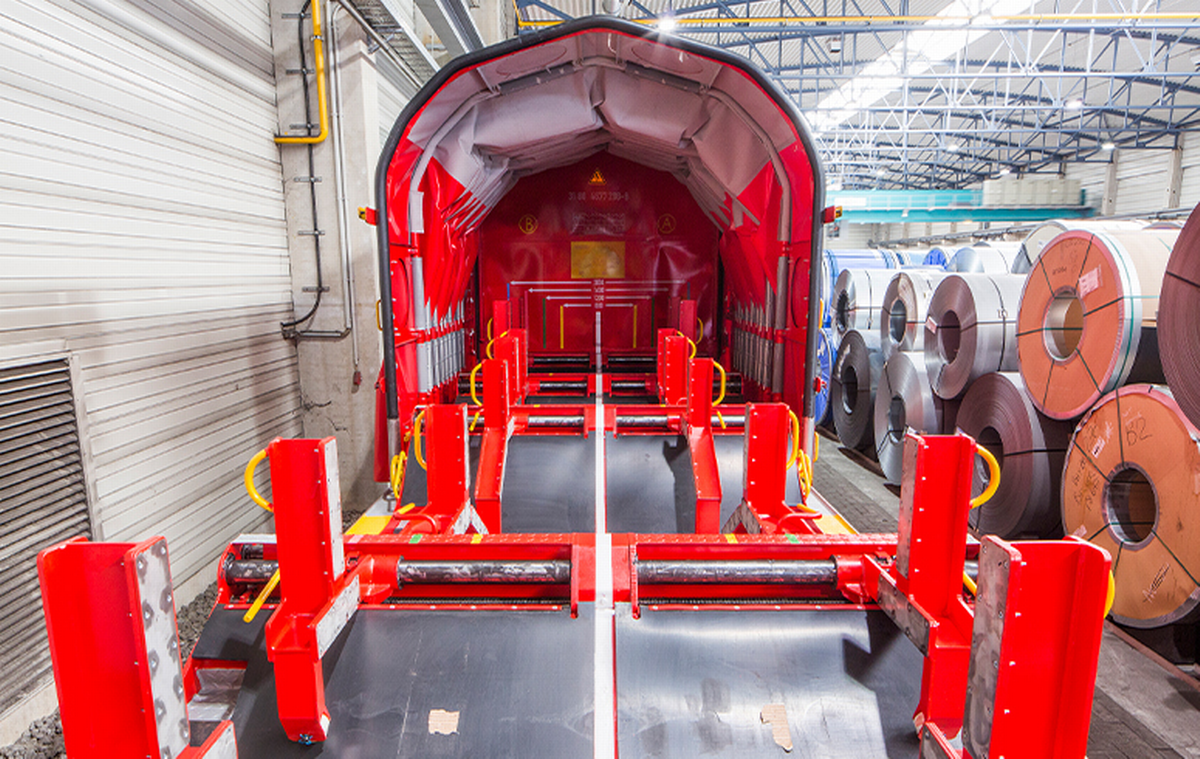 The steel coils for Welser profiles are delivered in Shimmns wagons. Copyright: Julia Unkel
Optimised run times and last-mile service
This is why Welser has its own private siding in Bönen, just like it does in Austria. Nevertheless, the proportion of rail transport at the German site is lower. "Until recently, railways could not compete with lorries, especially over short distances," Miklas says. To change that, DB Cargo is working with Welser Profile to develop new concepts for increasing inbound volumes. "We are optimising journey times, enabling special services, identifying potential and generating ideas for how to provide service on the last mile," says Dominik Gerland, customer advisor from DB Cargo's regional sales, explaining the approach. "There's a lot of potential here. We want to provide our customer with arguments for rail that are strong as steel."
Planning for long distances and fluctuations
This is not always easy: Welser Profile's business can be volatile, depending on the market situation. Routes change and quantities ebb and flow. "There is more volume at the beginning of the week than in the middle. In the era of the coronavirus we're experiencing now, transports to deliver goods to the automotive industry have fallen fairly sharply," reports Gerland. "That means we need to adapt our planning and demonstrate a lot of flexibility." It's a challenging environment for the two companies, as they strive to draw closer to their goal of more sustainability. That is why up to 70% of their transports are by climate-friendly rail. Don't count out long-distance routes in the future, either," says Gerland. "Welser Profile also supplies products to China. Why shouldn't rail on the Eurasian Corridor be the alternative to ships someday?"