A large number of industries depend on products from the chemicals industry. Whether they're liquid or solid, chemical substances are crucial precursors for plastics processing, food production, the pharmaceutical industry, and for the automotive and mechanical engineering sectors. DB Cargo BTT ships them by rail from A to B, including in combined transport for companies who lack a private siding.
The best-quality transport at the right price
"We are more than just a traditional multimodal freight forwarder," says Marco Borgwardt, Head of Business Development Intermodal at DB Cargo BTT. "With over 30 years of expertise in dangerous goods, we are always thinking one step ahead. The way we link together various modes of transport, such as lorries, trains and ships, makes sure the goods we are moving reach their destination at optimal cost and quality in line with the customer's requirements." DB Cargo BTT can draw on a large portfolio of service providers here. "That's why we are able to show a great deal of flexibility in meeting customer requirements. We have much more room to manoeuvre than our competitors."
CT even for shorter distances 
As if that wasn't enough, yet another feature sets DB Cargo BTT apart from the competition: "We've parted with the notion that combined transport is only really worthwhile for distances above the magical limit of 400 kilometres, and now we offer combined transport for shorter distances, too," says Borgwardt. "In other words, if a customer has so far been sending large volumes of cargo by road over a short distance every day, it is definitely worth considering a daily container rail shuttle instead," he adds. Before this can be done, however, some planning is in order: DB Cargo BTT closely studies customer and cargo stream analyses and builds on them to develop a competitive CT concept to find the right door-to-door solution perfectly tailored to each customer.
The same applies to plant terminals. "Our involvement with many kinds of terminals in various German regions gives us plenty of experience, so we can help our customers design and build terminals in their plants," says Borgwardt. "Terminals like this optimise transports in and of themselves, while giving a tremendous boost to internal processes, as well."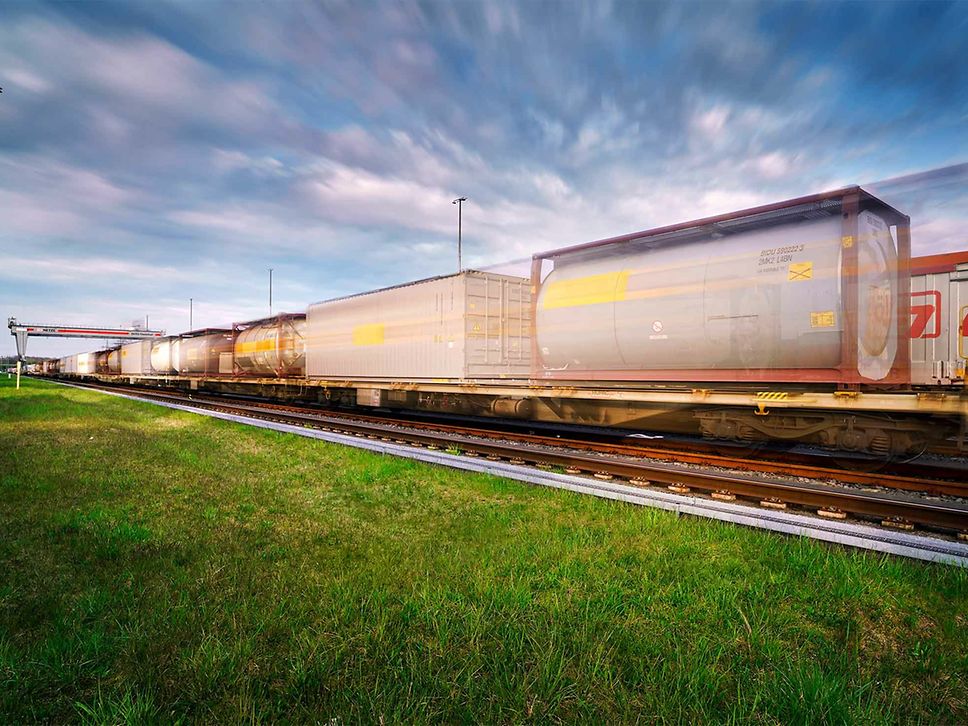 A one-stop shop
DB Cargo BTT has a few more services up its sleeve, too. For instance, customers can opt to have the chemicals specialist provide its modern tank containers for varied and specialist products, but they can also request for their own containers to be used to transport sensitive products. DB Cargo BTT also cleans, maintains and repairs the containers for its customers. "We offer a one-stop shop package upon request," Borgwardt says. "After all, we have extensive expertise and a broad network of cleaning companies and workshops."
Read more here: Safety first

It goes without saying that safety takes top priority when DB Cargo BTT is transporting chemicals:

The be-all and end-all here is a well-trained workforce. "We train our team regularly; after all, they're the ones doing the job on the ground, and they need to be trained for it as well as possible," says Borgwardt. 
DB Cargo BTT's service providers are also required to meet exacting standards of quality. They have to qualify in advance by satisfying multiple quality requirements. What's more, DB Cargo BTT's service providers are subject to regular quality audits.
No chemical transport without certifications: DB Cargo BTT participates in the Safety and Quality Assessment System (SQAS) of the European Chemical Industry Council (Cefic) and is certified accordingly. DB Cargo BTT also has ISO 9001 certification, confirming its high safety standards.
Carbon footprints and driver shortages
Last but not least, rail transport has two key advantages to offer: First, transport by train is one of the most environmentally friendly ways to move goods from A to B. After all, a freight train emits around 80 to 100% less CO2 than the equivalent road transport. Swapping transport modes can spare the atmosphere from untold tonnes of CO2 – even over shorter distances. "This eases the pressure on the environment, enabling our chemical customers to improve their carbon footprint and bringing them one step closer to their climate neutrality goals. Of course, we issue a certificate confirming the emissions they've saved." The second important advantage is the issue of drivers, Borgwardt continues. "It makes sense to rely on rail in response to the growing shortage of truck drivers. After all, a freight train does the work of up to 52 trucks but needs only one driver."
Get in touch with our expert.
Marco Borgwardt
Head of Business Development Intermodal DB Cargo BTT
marco.borgwardt@deutschebahn.com