Businesses and railways have always had a symbiotic relationship. After all, a strong rail system is the backbone of the economy. Times of crisis such as the current coronavirus pandemic have made it particularly clear that the rail network can and must be more than just a fallback option for companies and supply chains which depend on reliable transport.
Our mandate is clear. We must transport ever larger volumes of freight while improving our capacity to effectively protect the environment. Only one form of transport can meet both these needs – our railways. DB Cargo already dispatches thousands of trains every day, with 60% of them bound for international destinations. The rail network has enormous potential. It extends to every corner of the map, and private sidings, railports and combined transport services make it easier than ever for companies to access this system.
Supply chains hold up while people are locked down
Even during the lockdown, more than 3,000 partners relied on DB Cargo's comprehensive services. This allowed the delivery of basic supplies, such as pasta directly from Italy, to continue despite the crisis. There are challenges ahead, of course: We have so much more to do to ensure we can achieve our climate targets. Even so, every kilometre of rail travel generates 80% fewer emissions compared with a kilometre of road travel because our trains largely make use of renewable power on all electrified lines. Rail transport already results in 4.5 million fewer tonnes of CO2 generated every year. Nevertheless, DB Cargo needs to continue expanding its infrastructure while pressing ahead with digitalisation and creating many new interface points with other forms of transport. In addition, the company must leverage its wide range of services to attract even more new customers.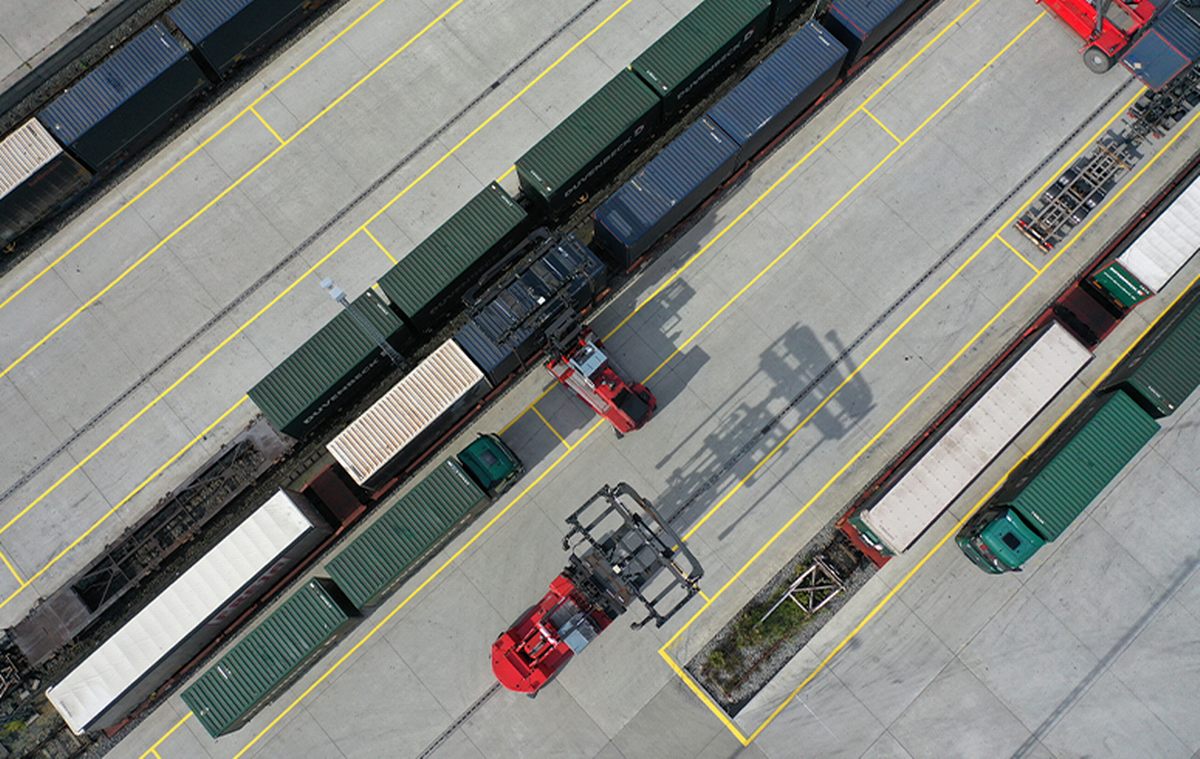 A freight train can take the place of up to 52 lorries, which would be wasting fuel whenever they were caught in stop-and-go traffic in urban areas or on motorways. Copyright: Oliver Lang
Despite the wide-ranging portfolio of products and services DB Cargo already has, there isn't just one single solution to suit everyone. Different customers may require different approaches, and we can meet their needs by creatively deploying our broad spectrum of solutions – from single wagonloads and block trains to private sidings and railports, not to mention port hinterland services and connections running on Europe's mighty east-west rail lines and beyond.
On the longest route, DB Cargo transports freight some 13,000 kilometres from Spain to China. At the other extreme, the company handles traffic between two plants a mere four kilometres apart.
No matter whether the distances are long or short, customers reap the benefits in added value, which only rail can unlock. As DB Cargo provides many additional services related to the actual transport, the company's eco-friendly logistics services become an integral part of the business processes and relationships between different company locations and partner companies. All signs point towards future growth, meaning once the economy is back up and running at full speed, DB Cargo will be able to respond quickly and add more transports to its schedules. Every crisis also creates an opportunity. During recent months, we have transported many types of cargo which had not been shipped by rail for many years. We are working hard to ensure these transports remain with us. In the meantime, we are making more preparations to handle growing rail freight volumes. For example, we have continued to hire new employees.
Quality and on-time rate of transport continue to improve
The German government plans to shift the equivalent of 50 million lorry journeys to the rails by 2030, and DB Cargo aims to handle about 50% of them. This is an ambitious target given that DB Cargo's transport volumes have fallen every year since 2011. Deutsche Bahn and German politicians have developed new targets to address this issue, and both sides are eager to see the rail sector's share of the modal split grow from its current level of 18%-19% to 25% by 2030. DB Cargo plans to achieve this target by applying a two-pronged strategy combining growth on the one hand with innovation and increased effectiveness on the other. Quality and punctuality of rail freight transport and customer service are set to improve. Equipping the freight wagons with GPS devices and sensors was one first step. "This is our way of making rail freight transport just as simple as online shopping," says Sigrid Nikutta.