Ever seen a gross weight of up to 90 tonnes moving itself around factory grounds without a driver? This amazing sight is part of an innovative intra-logistics concept for the BASF plant. It's also completely integrated with DB Cargo BTT's rail logistics. The latter is leveraging the smart concept with its own investment in brand-new 45 ft tank containers: a clear demonstration of how we stand by our customers when it comes to developing innovations.
It started with a conundrum: The grounds of BASF's plant are roughly the size of a small town and criss-crossed by a network of roads. The company also has its own private siding, and many kilometres of rail track. Even so, not all the loading sites can be reached by train. Tracks need space, which is a rare commodity. So how could the preliminary products, chemicals and dangerous goods delivered by rail from other BASF sites in Germany and Europe reach their destination in the plant more quickly and economically?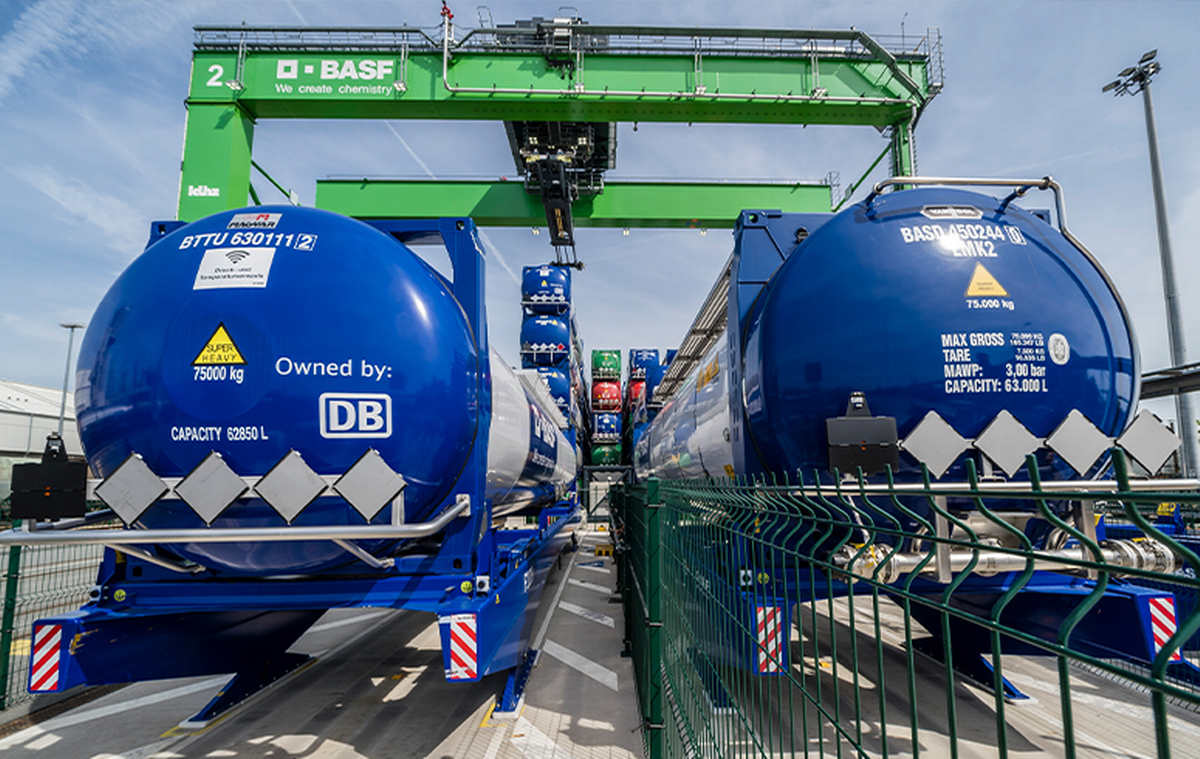 45-foot tank containers hold the volume of an entire tank wagon – up to 63,000 litres. Copyright: BASF SE
Linking heavy loads with smart technology
To solve this conundrum, BASF partnered up with another company to have a new generation of tank containers developed. The stackable new containers can hold significantly more volume than their standard counterparts. Not only can they be used as an alternative to tank wagons in German and international transport operations, but they also offer major advantages for plant logistics. A special heavy-duty crane is used to unload the container from the train and transfer it to a special road tractor: a self-driving Automatic Guided Vehicle (AGV). The 32-wheel AGV carries the container at a slow walking pace through the grounds of the plant, often navigating a series of tight spaces to reach the right loading station. BASF will ultimately have eight AGVs on site, monitored from a control centre. This method allows goods to move with much greater flexibility and efficiency than the plant's rail infrastructure can provide. As an added bonus, BASF can save space by stacking stored containers on the grounds of the plant.
Containers designed for rail
Environmental considerations play another important role – the containers are specifically designed for rail transport. Only empty tank containers can be transported on public roads, for example to tank cleaning facilities or depots without a private siding. Jennifer Thierbach, Head of Chemicals at DB Cargo BTT, is delighted with this commitment to rail: "Our aim is to work together to develop rail logistics solutions that benefit our customers and shift more and more goods onto the rail network. We think that the new containers can have a pull effect. That's why we also wanted to send a message of collaboration with our investment."
Get in touch with our expert.