The transport sector is a major producer of CO2 emissions in Germany. That's why the soft drink manufacturer Coca-Cola is shifting an increasing number of long-distance transports between its locations to the rails, a more eco-friendly solution. DB Cargo is playing a big part in providing on-time rail logistics services. New routes were linked up with the rails in February, and by mid-2021, Coca-Cola will have a country-wide rail freight network which connects all 13 of its German locations. The biggest winner here is the climate. DB Cargo's new transport route will reduce annual CO2 emissions by 1,900 tonnes. There will be more breathing space on Germany's motorways, too – the long-distance rail connections will result in 3 million fewer miles travelled by lorries.
A logistics network for the consumer goods industry
"It's cool to drink Coca-Cola. For the climate, it's cool that, in Germany, Coca-Cola's soft drinks will be transported over long distances by rail," says Dr Sigrid Nikutta, Member of the Group Management Board for Freight Transport at DB. "For consumer goods, the ideal mix is to use rail for long transfers and lorries for the last mile to the customer. We've worked with Coca-Cola to create a logistics network which is unique in Germany's consumer goods industry with a total of 13 locations." According to Dr Nikutta, the goal of a strong DB Cargo is to convince even more European customers of the benefits of rail logistics.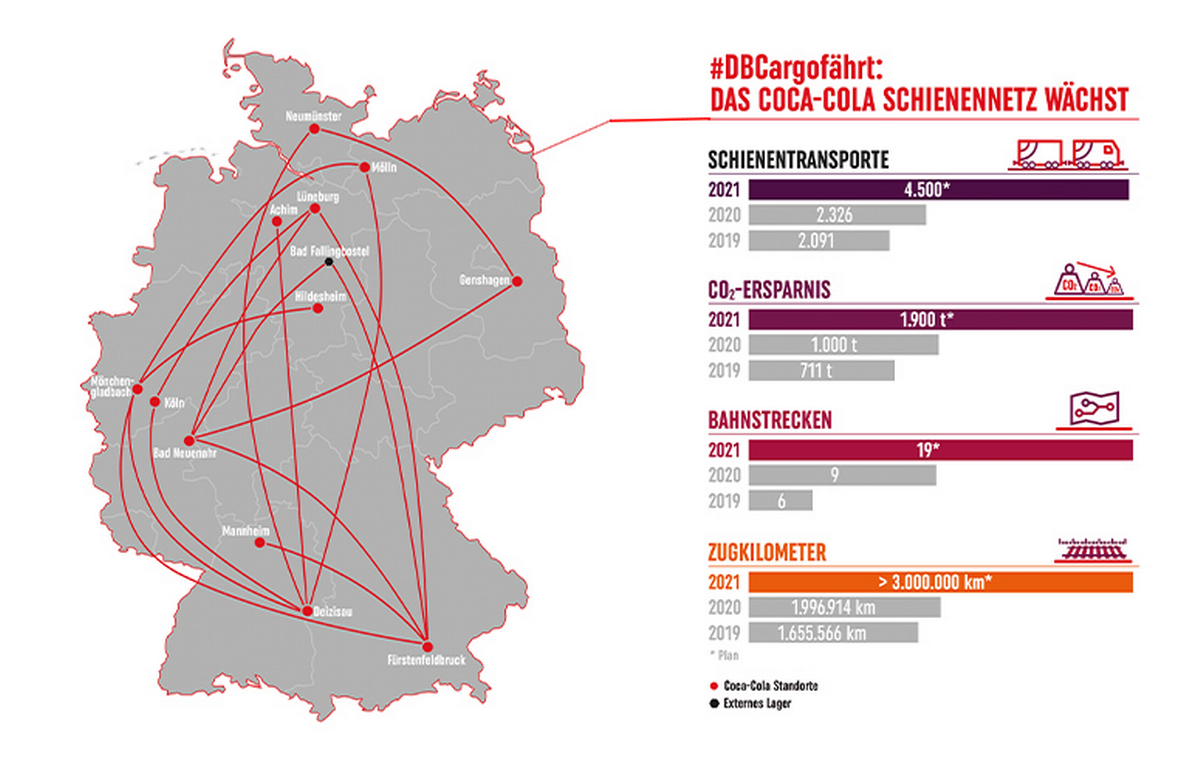 The freight network of Coca-Cola and DB Cargo in Germany. Copyright: Coca-Cola
Pilot project on the rails
As early as 2016, Coca-Cola and DB Cargo launched a pilot project to shift long-haul transports within Germany to the rails. Since then, the companies have gradually built upon the pilot transports. "Most of our production is regional, and the majority of our delivery routes are short. Whenever routes get longer, we've been relying more heavily on the railway. That's why, this year, we're working with DB Cargo to build a network of 19 different routes between our various locations," says Tilmann Rothhammer, Vice President for Customer Service and Supply Chain at Coca-Cola. "We've been able to do this particularly because we can order rail freight transports from DB Cargo with as little notice as we can order road haulage – just three days. Sudden fluctuations in demand are common for consumer goods companies, so it's especially important for us to have this flexibility. This will help us shift more transports to the rails and to achieve our ambitious goal of making our business climate-neutral by 2040."
Coca-Cola has set a target of reducing absolute greenhouse gas emissions across its entire value chain by 30% by 2030 compared with 2019 figures and to become climate neutral by 2040.
Facts and figures: Coca-Cola on the tracks with DB Cargo
More long-distance rail freight transports between German locations since 2016
2020: 1.7 million fewer kilometres driven by lorries and 1,000 fewer tonnes of CO2 generated
2019: 1.4 million fewer kilometres driven by lorries and 700 fewer tonnes of CO2 generated
2018–2020: number of locations in the rail network more than doubled from 5 to 11
2018–2020: number of routes in the rail network more than doubled from 4 to 9