Following a brief dip due to the pandemic, trade between China and Europe has picked up considerably again. In 2020, China was Germany's most important trading partner for the fifth year running. The Eurasian Corridor is strategically important to both economies. Rail operations are growing in lockstep with business, as well as in terms of quality, ecological awareness and cost-effectiveness. No other form of long-distance transport produces as low a level of emissions as trains. A freight train's CO2 emissions are some 95% below those of a plane and almost 70% lower than a lorry's. Container ships have a comparable CO2 profile, but they are far slower. It is these advantages that are generating interest in the rail link between China and Europe. The impressive upgrading of the corridor's routes is set to reduce transit times further. It currently takes 14-18 days from terminal to terminal, something that played a positive role during the pandemic: not only did rail freight transport make it possible to get protective equipment to Europe quickly, but these consignments were up to ten times cheaper than air freight in addition to being environmentally friendly. This was just one more step towards showing how competitive train services on this route can be. They have become an integral part of organising international logistics chains to and from China, and it is now impossible to imagine a world without them.
Impressive performance despite the pandemic
Over 12,000 trains used the Eurasian Corridor in 2020, an increase of approximately 3,000 on the previous year. According to statistics from China, the value of freight transported during the first nine months of 2020 saw an increase of some 50%. Around 5,000 trains travelled the entire route from China to Europe, with some 3,800 completing the journey in the other direction. The growth in block trains despite the pandemic made a key contribution to economic stability in both China and Europe.
Plenty more potential
Despite these impressive increases, rail currently accounts for only 3% of freight traffic to and from China. DB Cargo wants to do something about this, so it aims to continue expanding its transport capacity. Dr Carsten Hinne, Senior Vice President of Corridor Development/Eurasian Corridor and CEO of DB Cargo Eurasia, explains what these plans entail: "In 2020, Deutsche Bahn handled more than 200,000 TEUs on the Eurasian corridor. Our goal for 2025 is to reach the 500,000 TEU mark."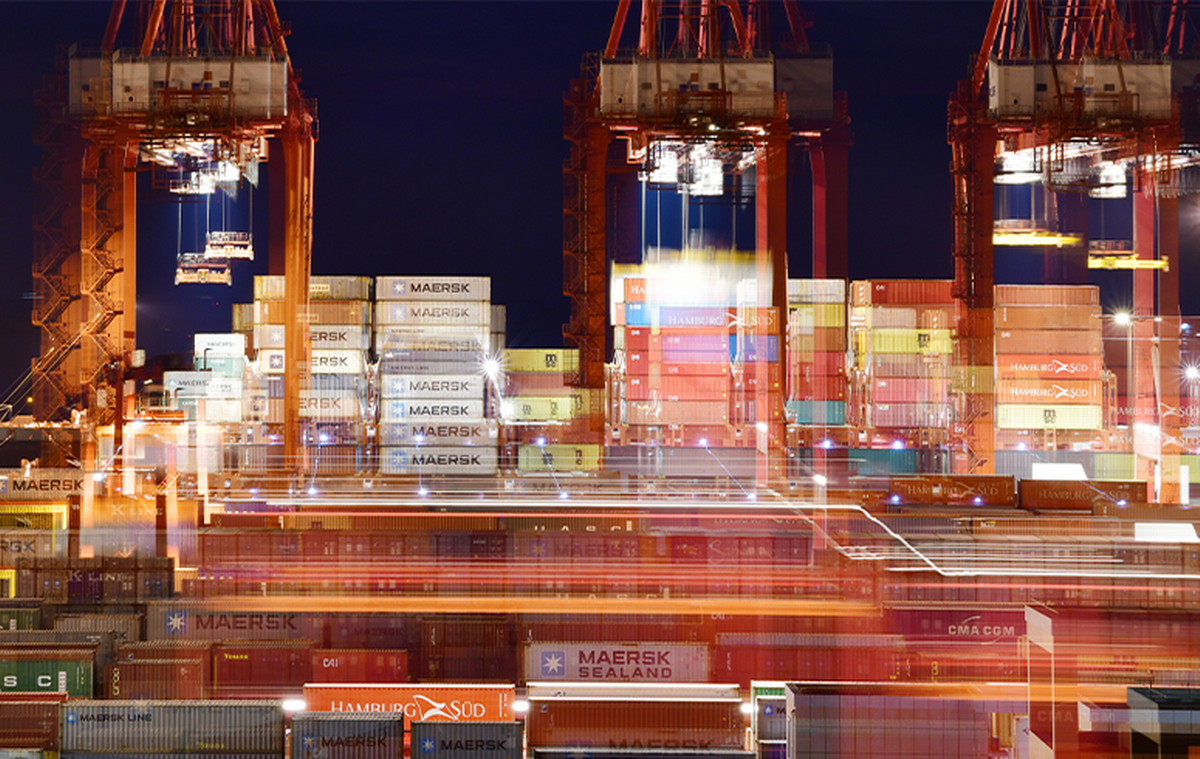 The Port of Shanghai handled around 43.5 million containers in 2020. Copyright: Oliver Lang
Paperless transports thanks to blockchain
We are working with DB Systel and Deutsche Bahn International Affairs to develop new ways of reducing transport times between Asia and Europe still further. In September 2020, the consortium met with other members of the Seven Railways Agreement to discuss digitalising the Eurasian Corridor's transport services. Using blockchain is one option – one of its advantages would be the creation of completely paper-free transports. This would not only save time and improve quality but also promises to optimise transport processes and enhance the customer appeal of rail transport.
DB Cargo Eurasia
For over a decade, we have been working to shift rail freight between Europe and Asia onto the railways. We are pioneers – 2008 was the year our first container completed the trip from China to Europe, going from Xiangtang to Hamburg. Today, this link has evolved into over ten round trips a week between major industrial centres in China and Europe. As DB's operator, we organise and oversee everything for our customers as far as the Chinese border. This entails working with Moscow-based DB Cargo Russija and with DB Cargo Transasia, a new company currently being established in Shanghai.

Shanghai is one of the largest cities in the world. Copyright: Oliver Lang
We offer our customers terminal-to-terminal transports as well as bespoke door-to-door services. We are constantly adding to our portfolio, something that sees us working with Chinese logistics platforms. Trans-Eurasian connections can have particularly long value chains. For this reason, providing an all-inclusive service from a one-stop shop can generate real advantages and improve a transport's profitability.
DB Cargo Eurasia in figures:
Record result in 2020:
Our total sales came to EUR 115 million, more than double the figure for 2019.
We increased our sales more than tenfold in just two years.
Number of employees at DB Cargo Eurasia: 66
Offices: Germany: Berlin, Frankfurt am Main; Poland: Małaszewicze; Russia: Moscow; China: Shanghai, Xi'an and Dalian
Watch Dr. Carsten Hinne in the below video explain future steps.