For over a decade, DB Cargo Eurasia have been working to shift rail freight between Europe and Asia onto the railways. We are pioneers – 2008 was the year our first container completed the trip from China to Europe, going from Xiangtang to Hamburg. Today, this link has evolved into over ten round trips a week between major industrial centres in China and Europe. As DB's operator, we organise and oversee everything for our customers as far as the Chinese border. This entails working with Moscow-based DB Cargo Russija and with DB Cargo Transasia, a new company currently being established in Shanghai.
By regularly handing us new transport tasks, our customers demonstrate their trust in us. In return, we are always working to approve rail solutions for new commodity groups that have the urgency and price to make them a natural fit. Products such as lithium-ion batteries, electric vehicles and dangerous goods, for instance.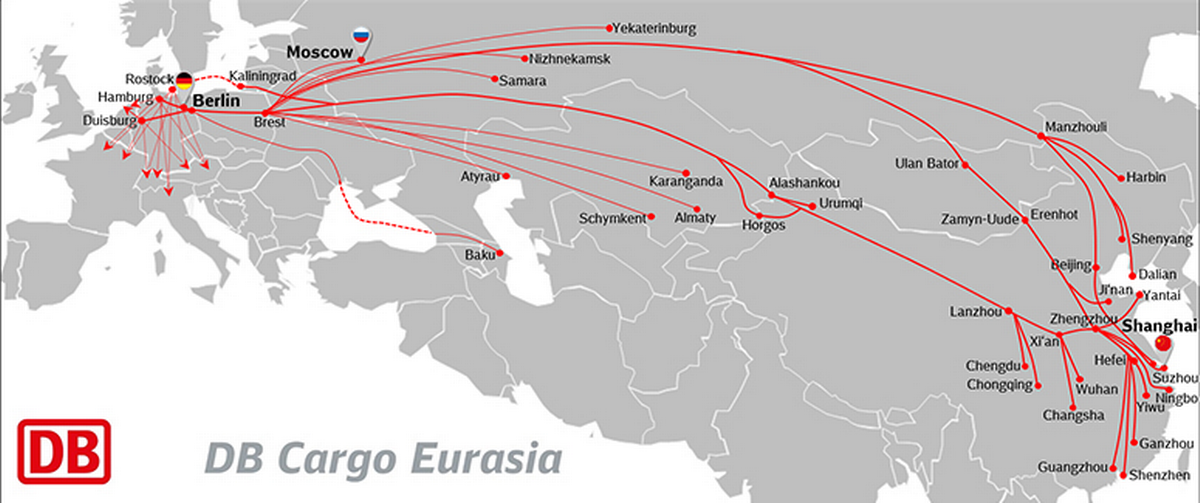 The Eurasian Corridor is strategically important to both economies. Copyright: DB Cargo Eurasia
Goods on the way to China: new services and new commodity groups in 2020
Eastbound (EB) & westbound (WB) Kaliningrad–Rostock, multimodal route:
In April, weekly service was established from Xi'an to Kaliningrad (rail), to Rostock (container ship) and then on to Duisburg, Hamburg or Verona (rail) and back again. The transport takes 14 to 16 days. Pandemic supplies were also transported along this route: Deutsche Bahn and Federal Ministry of Health ensured the supply of masks over the trans-Eurasian land bridge. The first train with pandemic supplies chugged out of Xi'an, China, and passed through Russia, Belarus, Lithuania and Kaliningrad to roll into Rostock with 7.4 million masks right on time on 4 May 2020.
EB Immingham (UK)–Hefei:
In early June, DB Cargo Eurasia began offering weekly eastbound transport from Immingham (GBR) via Cuxhaven (DEU) to Hefei (CHN). Duration of transport: 20 days. Commodity group: automotive parts.
WB Hefei–Dourges (FRA):
First transport in September 2020. Commodity group: refrigerators.
WB Yiwu–Liège (BEL):
The first train arrived in Liège on 8 December 2020. This connection is provided with the help of our partners from YXE International Container Train (义新欧), DP World Liège Container Terminals, DB Cargo Russia, DB Cargo Polska and DB Cargo Belgium. The westbound service from Yiwu has run weekly since the first train. Commodity group: e-commerce.
Coil transports:
DB Cargo Eurasia partners with DB Cargo Russia to transport aluminium coils halfway around the world from Duisburg to China by way of Vladivostok. DBCE has created a shrewd combination of rail and sea routes for the containers that ensures the coils reach their destination safe and sound in two to three weeks. Plans are in the works for trains to run in the opposite.
Xi'an–Oslo via Kaliningrad:
The first block train made it to the Norwegian port on 26 December. The stopover in Rostock was axed, trimming transport time to 13-15 days. Three trains have already made the trek to Oslo since then.
Brake–Chongqing:
Together with our partners DB Cargo and DB Cargo Logistics, DB Cargo Eurasia has launched the first direct train carrying pulp from the German seaport of Brake to Chongqing in China. The arrival of the first "Panda Train" at the Chongqing terminal was celebrated on 28 December 2020.
Our new services and new commodity groups in 2021:
Transport of pandemic supplies from Yiwu to Małaszewicze:
In February 2021, 41 containers transported personal protective equipment, hypodermic needles and isolation gowns from Yiwu to Małaszewicze.
Yiwu–Lovosice:
In February 2021, the first train ran on the new line between China and the Czech Republic. Around 20 more trains are expected to traverse the route before the year is out
Xi'an–Helsinki:
The trip from Xi'an to Helsinki takes roughly 16 days, and the whole journey from end to end is on rail. The first container train arrived in Kaliningrad on 8 March 2021. Next, the 42-x-40-foot containers were transferred from the wagons to the Dornbusch, a Mann Lines multimodal ship. On 10 March 2021, it left for its destination, the port of Helsinki. The cargo arrived there on 13 March 2021. The train carried containers of clothing, furniture, fittings, medical masks and medical supplies, car tyres, production equipment and household appliances.
Xi'an–Fredericia:
The new route from Xi'an to the port of Fredericia, Denmark, started in February 2021. The train departed on 28 February and was also routed through Kaliningrad. It arrived there on 12 March. From Kaliningrad, the containers were transported onwards by ship on 15 March and, after a short stopover, reached the port of Fredericia on 18 March 2021. There are plans to have further monthly transports along this route.
Xi'an–Bremerhaven–USA:
Successful DB Cargo Eurasia project support for DB Schenker and ITL. The first containers have already been delivered to Houston on schedule. Background information: Given the current difficulties with handling on the West Coast of the United States, DB Schenker has set up an alternative route for US shipments on short notice. The route runs from China, through Bremerhaven and all the way to the East Coast of the US. From Chinese megacity Xi'an, the containers are brought on trains to Kaliningrad and then transhipped at the EUROGATE Group Terminal in Bremerhaven. Next, the shipments are ferried across the Atlantic to New York, Houston, Charleston and other East Coast ports. From there, they are distributed to the US market.