Rail freight transport is already extremely climate-friendly. But it gets even better. Thanks to DBeco plus and DBeco neutral, freight transport can even be entirely CO2-free on rail or climate neutral on sections of routes where emissions are unavoidable. Mercedes-Benz is one customer relying on DB Cargo's carbon-free and climate neutral freight logistics – and is putting even more new vehicles onto trains, including fully electric Mercedes-EQ cars. 
DB Cargo handles all transport from the southern German plants
New to the network: Since the beginning of 2022, DB Cargo has added transports of finished vehicles from the Mercedes plant in Rastatt to Zeebrugge and Bremerhaven. The new links are an extension of the Rastatt-Koper connection, which had already been a reliable link for some time. DB Cargo Logistics now serves both of the Mercedes-Benz plants in southern Germany – Rastatt and Sindelfingen – and has even invested in additional car carrier wagons specifically for this purpose. Mercedes uses DBeco plus on all connections in Germany and Austria and DBeco neutral in neighbouring countries.
Carbon-neutral all the way to Spain
Central Europe isn't the only destination for vehicles originating in Rastatt; vehicles are also transported to Barcelona and beyond. Every week, the Stuttgart-based car manufacturer exports several hundred vehicles to the capital of Catalonia with DB Cargo Logistics. From there, the iconic vehicles are distributed throughout the entire Iberian Peninsula. 
New as of last year: DBeco plus and DBeco neutral have made transport to Spain climate neutral. This saves a whole 5,900 metric tons of CO2 per year compared to transport by truck. "We run up to four block trains a week to Spain for our customer," says Sabine Ofori, Senior Account Manager at DB Cargo Logistics. "Each train takes up to 52 trucks off the road. The fact that our transports on this connection have also been climate neutral since last year is of course an added benefit for the environment."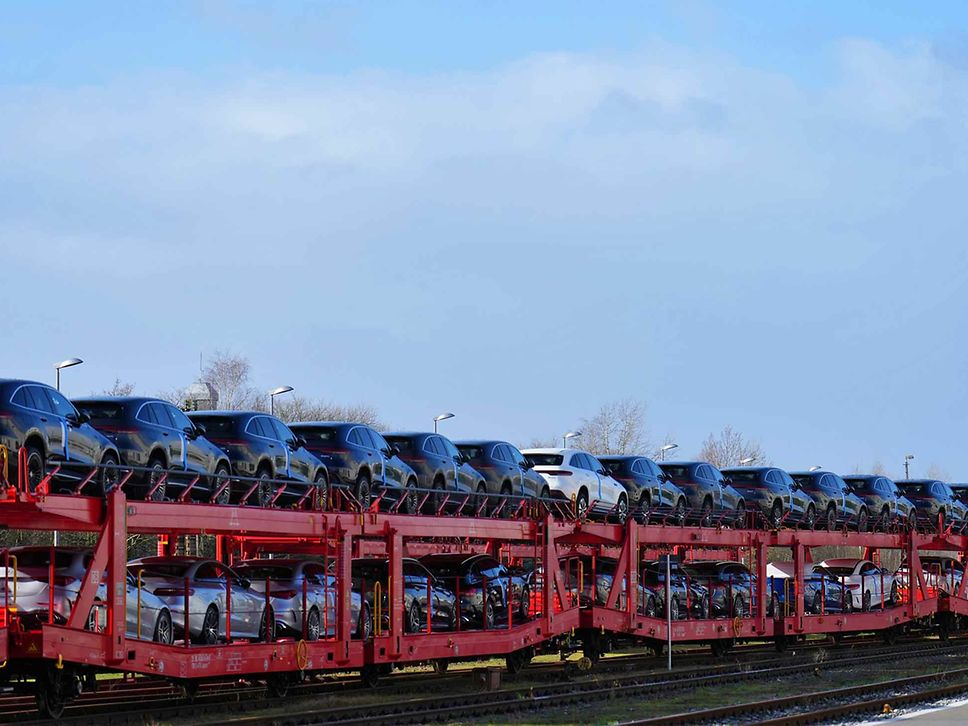 Hub system for efficient distribution and optimised journey time
We have updated our hub concept, which makes up the core of the logistics solution on the Spain corridor. The Einsiedlerhof marshalling yard has served as a central transport hub for Mercedes transports for some time. Block trains headed for Barcelona are formed at the hub. The trains come from the plants in Bremen and Sindelfingen, the seaport in Bremerhaven, and the plants in Rastatt and Kecskemét, Hungary. Most of the vehicles are transported to Einsiedlerhof in single wagonloads or in the customer-specific network from the different plants and ports in Germany and the rest of Europe. One of the major advantages of the hub concept is that overall journey times can be slashed when cargo volumes, including smaller volumes, from various plants are pooled to form direct trains. "The hub's location is a real advantage because many trains to France and Spain depart from Einsiedlerhof," says Laura Decker, Senior Product Manager at DB Cargo Logistics. "This means that we have much more flexibility if operations are disrupted or we have increased cargo volumes since we can use other train paths." 
Multi-client trains for even more efficiency
New vehicles from various manufacturers are also transported to and from the hub in Einsiedlerhof, both on the outward and return journeys. This new reloading approach prevents empty runs and uses transport equipment as efficiently as possible. "We of course always try to operate at the highest possible capacity from Barcelona to keep the cost to our customers as low as we can," says Ofori. Further expanding the UIC route to Spain could shift even more traffic, including distribution traffic, to and from Barcelona to rail. 
More about DBeco plus and DBeco neutral

DBeco plus enables carbon-free freight transport on all routes in Germany, Austria and the Netherlands. To make this possible, DB Cargo uses the third-party tool EcoTransIT World to determine the exact energy requirements of a transport run, and it buys the corresponding amount of green electricity, most of which comes from Germany's own renewable energy sources. The renewable energy we purchase replaces what would otherwise have been conventional energy in the traditional traction power mix.

And it's all doubly good for the climate: 10% of the revenues from DBeco plus are used to fund plants that generate or store renewable electricity. The entire process is subject to audits by the TÜV SÜD technical inspection association. In addition, the CO2 savings are confirmed with a certificate.

Of course it's not always possible to avoid carbon emissions entirely. This is where DBeco neutral comes in. DB Cargo offsets carbon emissions that cannot be avoided, such as those generated over the first and last mile by truck or on a non-electrified section of a rail route. This makes DBeco neutral the perfect complement to DBeco plus. 

The total carbon emissions for the supply chain are calculated for DBeco neutral. In cooperation with atmosfair, DB Cargo invests in selected sustainability projects that meet the CDM Gold Standard, currently the strictest standard for climate protection projects.