Deutsche Bahn has set up a logistics network that uses road and rail to transport aid supplies from Germany to Ukraine. This will bring thousands of tonnes of food, drinking water and sanitary products directly into the country by lorry and freight train. The logistics teams at DB Cargo, DB Schenker and DB Transa Spedition are working together so they can use lorries to collect items donated in Germany, load them into containers and transport them across the border to Ukraine on board freight trains operating on DB Cargo's European rail network.
20 September 2022: Memorandum of understanding gives direction to rebuilding Ukraine

Deutsche Bahn AG has reaffirmed its support for Ukrainian Railways by signing a memorandum of understanding (MoU). The agreement intensifies the collaborative partnership between Ukrzaliznytsia (UZ), Ukraine's state-owned rail company, and Deutsche Bahn AG. 

Deutsche Bahn is supplying technology and expertise to help expand grain exports to the European Union. This gives direction to enabling a functioning supply chain – even during the Russian war of aggression. Optimising Ukrainian rail freight transport will be the main goal of the partnership. The rail network of western Ukraine in particular proves that DB Cargo's help in upgrading freight corridors is already bearing fruit. Important transport hubs can be served by freight wagons on European standard-gauge routes. 

Extensive support for Ukrainian Railways

The MoU contains assurances of support in various direct assistance packages and of help to rebuild once the war is over. There are plans to stabilise corporate structures, supply spare parts and provide wagons and coaches. Ukrainian rail workers were recently provided with protective work clothing.



8 June 2022: New hotline opening times.

The hotline is now open from 8 am to 4 pm on weekdays.
12 May 2022: Donation of food from Berlin Zoo to Kyiv Zoo.

Sticking together in hard times - also for the animals in Ukraine. Thanks to generous donations, Zoo Berlin was able to send over 20 tonnes of feed, veterinary supplies and vitamins to Kyiv Zoo via our international rail bridge.
11 April 2022: First train sets off with humanitarian aid supplies from the UK 

25 freight trains have already made their way through Poland to Ukraine using our international rail aid link. Goods from Spain and the UK are being transhipped in Seddin – see for yourself in the video.



24 March 2022: Humanitarian aid supplies arrive in war zones

Two weeks after the first train set off, another five trains with humanitarian aid supplies are on their way to Ukraine using the DB rail aid link. Numerous companies and private individuals throughout Europe are participating in this project and have promised further donations. The logistics experts at DB Cargo, DB Schenker and DB Cargo Transa-Spedition are currently receiving numerous orders and requests for aid transports, particularly food and beverages, but also sanitary and hygiene items. Nearly 100 containers that were filled at DB collection points in collaboration with helpers from the German Federal Agency for Technical Relief (THW) are currently ready for transport via the rail aid link.

DB has set up a hotline for the rail aid link to Ukraine. People can call it to register their cargo, especially companies with items to donate and large consignments, and arrange collection. Transport is free of charge for donors until further notice. The hotline is staffed from 8 am to 4 pm on weekdays.
 
Tel.: +49 203 9851 9000

E-mail: Schienenbruecke@deutschebahn.com


Containers are transferred from truck to rail in terminals like the one in Berlin. The trains travel in DB Cargo's European network via Seddin in Brandenburg to Poland and on into Ukraine.

Dr Sigrid Nikutta: "We are shocked and appalled by this war in the heart of Europe. That is why we are taking decisive action and doing what we do best: providing people with essential goods. Every container sends the message that we will not abandon the people of Ukraine. The rail aid link is working – and it can do even more. That is why we are continuing to accept humanitarian aid supplies at all times."

Dr Andrij Melnyk: "From the very first day of the Russian war of annihilation against Ukraine, I appealed to the German government to establish a supply corridor from Berlin to our homeland in order to deliver prompt assistance to my compatriots. We are very grateful to all those involved in the federal and state governments and DB for taking up this initiative and making this vital rolling rail aid link a reality. It is a symbol of Germany's solidarity with the people of Ukraine."

Dr Volker Wissing: "It sends a powerful message when donors from the business community and civil society are able to dispatch thousands of tonnes of humanitarian aid supplies to our neighbours in need in just a few days. The logistical implementation is a huge achievement by Deutsche Bahn and its employees. We want to get this aid to where it is needed quickly and efficiently. Working with the authorities, European railways are currently proving how resilient, reliable and effective they are, even in times of major crises. They have managed to quickly transport large quantities of humanitarian aid supplies to the conflict area while also bringing many people to safety in western Europe. Every bit of help for the people of Ukraine is a sign of our determination and our strength to resist those who attack our liberal democracy."

Franziska Giffey: "Just as Berlin received international aid through the airlift almost 75 years ago, Ukraine needs our help today. The rail aid link from Berlin is a sign of our solidarity with the people of Ukraine. I would like to thank Deutsche Bahn from the bottom of my heart for what they have managed to do – as well as for their efforts on behalf of the refugees. Berlin has become a hub for Germany's efforts to assist Ukraine, and it remains the city of freedom and solidarity."
11 March 2022: First freight train set off from Seddin shunting yard via Krakow towards Kyiv on early Friday morning

The DB Cargo and DB Schenker Rail aid link is picking up speed. The first train carrying relief supplies for the people of Ukraine set off from Seddin shunting yard near Berlin on early Friday morning.  

The train is loaded with 15 containers. The cargo includes sleeping bags, sleeping mats, nappies, tinned food, drinking water, warm clothing and baby food, but also medical products such as syringes, plasters, gauze bandages and cannulas. This way, a total of 350 tonnes of relief supplies will be brought to Ukraine.

"Rail provides a stable connection to Ukraine. Today we are starting to help quickly – with what is needed most. A stable connection and experience in logistics processes are important here so that we can help reliably," says Sigrid Nikutta, Member of the Management Board for Freight Transport at Deutsche Bahn and CEO of DB Cargo.

Jochen Thewes, CEO of DB Schenker: "Logistics gets things where they are needed, especially in times of crisis. With DB's rail aid link, we are ensuring that the huge international willingness to help also reaches the people in Ukraine."
DB uses existing freight transport network 
This work has been made possible thanks to joint efforts between DB Cargo's Polish subsidiary and the Ukrainian railway, as well as with DB Schenker's local teams in Poland. This logistics network also accepts small donations. 
Since 2 March, lorries have been going to Ukraine loaded with dry foods and hygiene products from wholesalers and food companies in Mannheim and the Rhine-Main area. We are currently organising more consignments that will soon begin the journey to Ukraine by container train. This freight network is still open to receiving items – large donors in particular can call the hotline on display below. DB Schenker and DB Cargo have assembled an impromptu sales team to assist people who want to make donations.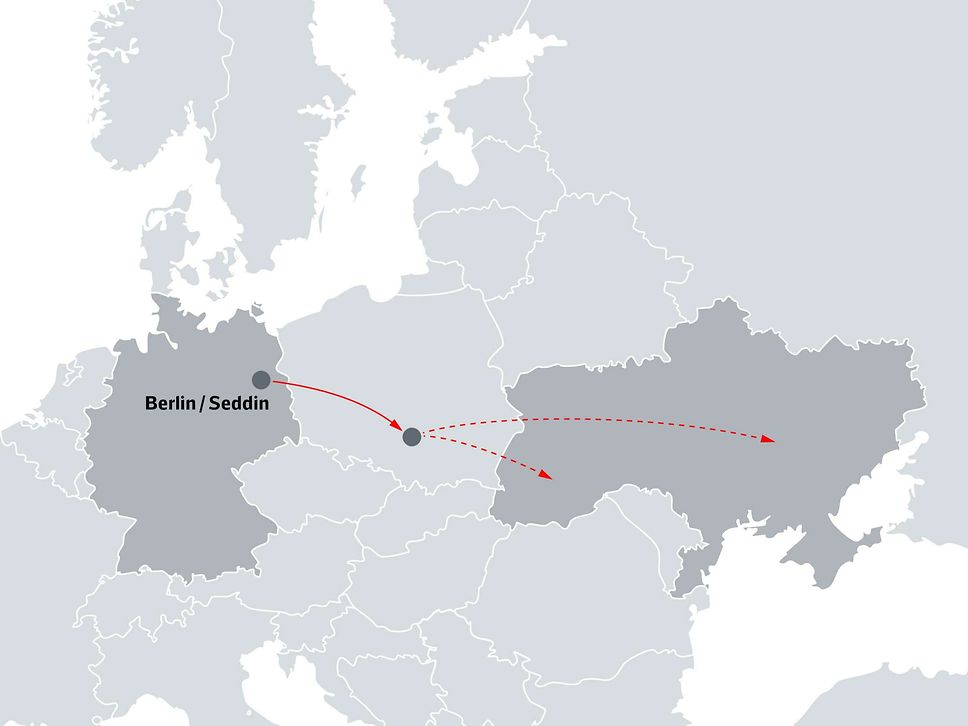 "We will not abandon people suffering in Ukraine."
"Our colleagues tell us that the road infrastructure and border crossings between Poland and Ukraine are completely overloaded and there is a shortage of truckers to go to Ukraine. Freight trains are getting through, though. A single train can transport up to 52 containers and so bring urgently needed supplies to terminals in the east and west of Ukraine that are still functioning," said Sigrid Nikutta, Member of the Management Board for Freight Transport at Deutsche Bahn and CEO of DB Cargo. "Never has a freight train been dispatched with more solidarity and love. We will not abandon the people of Ukraine when they are suffering."
Jochen Thewes, CEO of DB Schenker said "Now is the time for action instead of a lot of words. At DB Schenker, we see ourselves as one global family. If someone in this family needs help, we are there for them. Our strong European logistics network is helping us to supply Ukraine with aid items quickly and easily. On rail and road and in our warehouses, we are sending a signal: that logistics, peace and freedom know no borders."
Rail aid link's hotline
DB has set up a hotline for the rail aid link to Ukraine. People can call this number to register their cargo and arrange collection. Companies with items to donate and organisations with large consignments are particularly welcome. Donors do not have to pay anything for transport. The hotline is open from 8 am to 4 pm on weekdays.
Tel.: +49 203 9851 9000
E-mail: Schienenbruecke@deutschebahn.com