It sometimes takes a bit of patience to shift traffic to rail, but patience pays off. For years, Autoverwertung Möck has been seeking to reactivate its private siding, which closed in 2014. The political and financial circumstances seemed intractable, and transporting freight by rail would have meant circuitous routes. When the family-run company approached DB Cargo in autumn 2020, however, everything quickly fell into place.
Putting the 300 metres of track back into operation meant overcoming a number of legal hurdles. Möck needed a rail safety manager and new equipment, for example. DB Cargo stepped in to help with both these aspects. "We didn't really have to worry about anything anymore; the cooperation between the rail safety manager and DB looked after itself. DB Cargo also solved delivery bottlenecks for suitable drag shoes, which are placed under wagons to stop them rolling away. Our contact person simply supplied us with new ones. We were really impressed by how much professionalism, helpfulness and empathy they showed," says managing director Jürgen Möck. One big advantage was that the company had kept the tracks in good shape over the years and had also overhauled the points. This meant the siding could be reactivated more quickly. The first EANOS wagons arrived at the company's site on 15 June this year.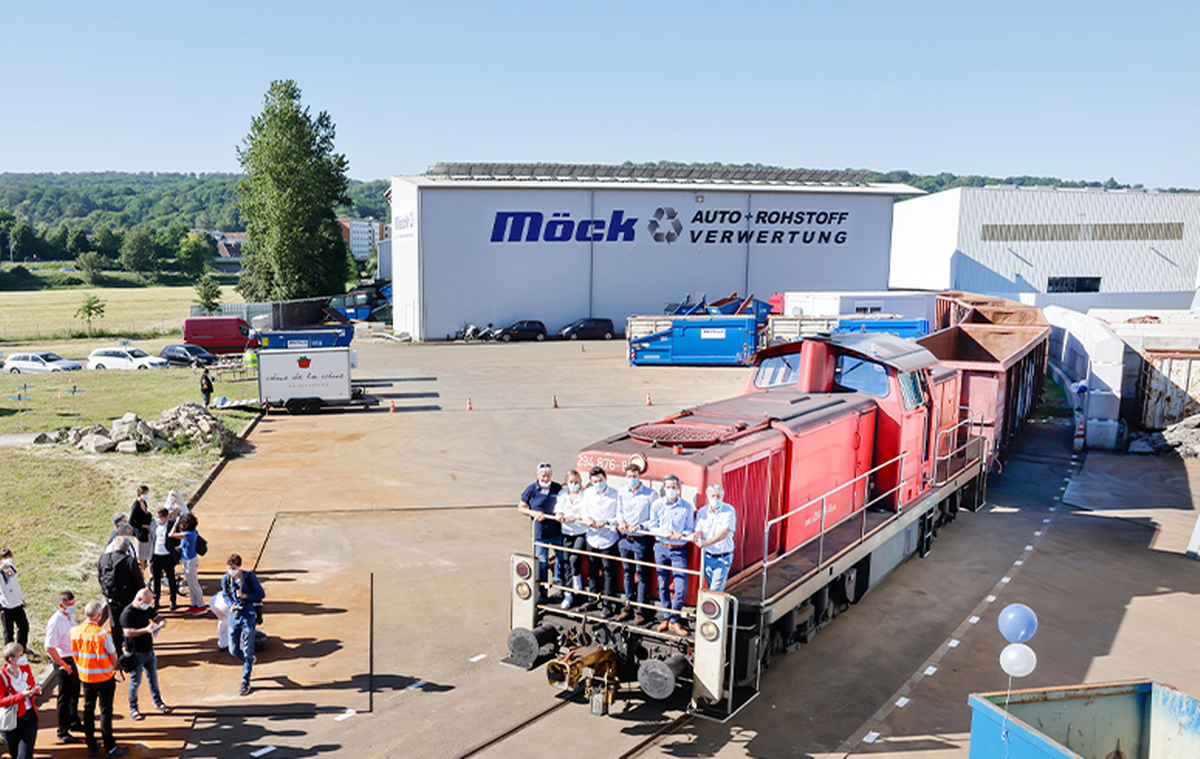 Marie and Jürgen Möck have found a long-term, reliable partner in DB Cargo. Copyright: Thomas Klink
More sustainable recycling thanks to rail freight transport
"We thought to ourselves, it can't be right that we only transport bulk freight and scrap by road when we have our own rail tracks. But it probably needed pressure from climate change and for policymakers generally to wake up to the issue," says Möck. He and his daughter Marie Möck are firm believers in rail transport and did not want to do without it. Alongside their father, Marie and her brothers are the fourth generation of the family to run the business. Sustainability is a big priority at Möck. "Without rail freight, there's no way we could ever become climate neutral, and that goes for our home city of Tübingen, too. We want to make recycling more environmentally friendly throughout the city. We therefore see the resumption of rail freight transport as a great opportunity and a decisive move for the future," adds Marie.
The waste disposal specialist plays a major role in regional recycling, with many businesses in the automotive and steel industries relying on the Möck family for their waste disposal needs. All the greater, then, was the company's responsibility to set a good example for the Tübingen region. Shifting traffic to rail was a principled decision. "We don't want to shift to rail because it's more economical, but because it's the right means of transport," says Jürgen.
Shared sidings to boost single wagonload transport

Up to six wagons can fit on Möck's track. From the siding, two wagons travel as single wagonloads to Italy carrying crushed scrap vehicles. Another two deliver scrap from German steelworks to Switzerland, and two further single wagonloads are currently being planned. The company also aims to transport refuse-derived fuels by rail in the future, along with other waste fractions such as wood.
Möck wants to achieve a 50:50 mix of rail and road. "Many of our customers do not have access to rail and so bring goods by lorry. That means we can't do without road transport for the time being. Also, not all goods are suitable for transport by rail," says Marie. But there is no shortage of ideas for further promoting the modal shift to rail. Autoverwertung Möck is interested in making its siding available to other Tübingen companies. Once the arrangements have been worked out, shared sidings offer potential for versatile, bespoke logistics models.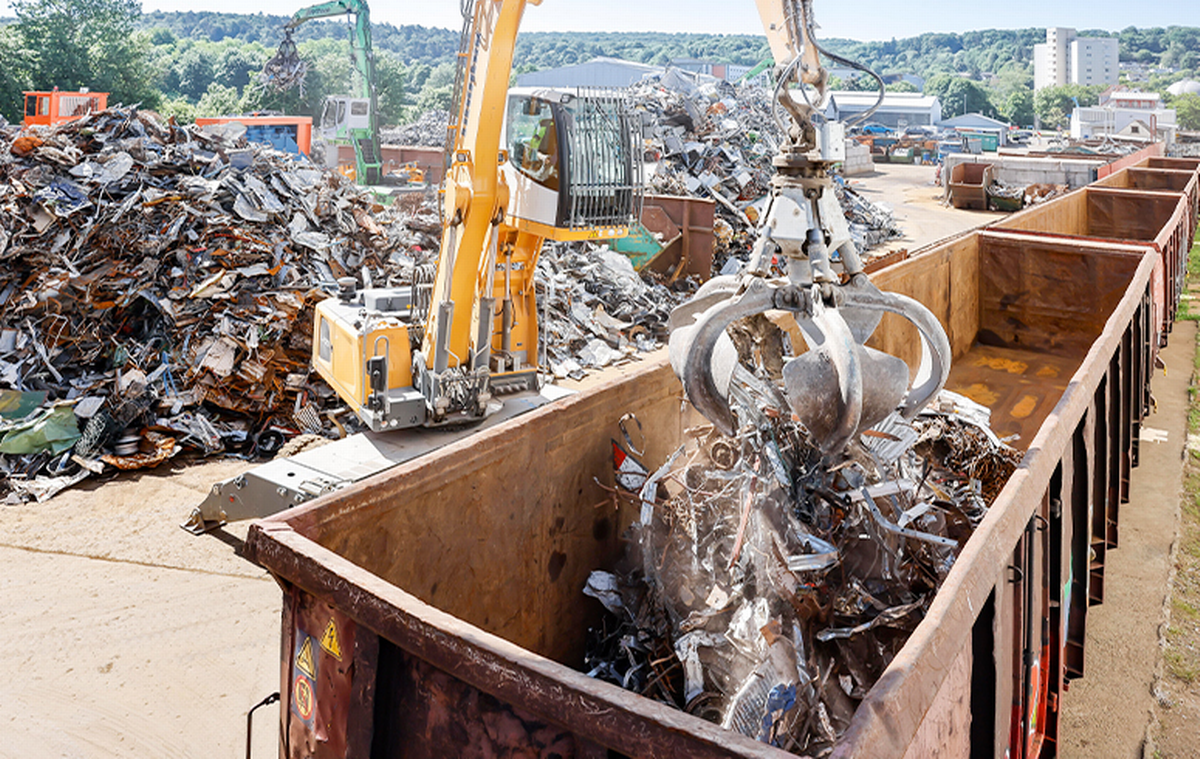 Up to six wagons fit on Möck's track. Copyright: Thomas Klink

Brining even less-profitable routes online
Marie and Jürgen Möck have found a dependable long-term partner in DB Cargo. "DB Cargo's commitment encourages us to continue pushing and expanding rail freight transport. We feel like we're in good hands," says Jürgen. Kai Maass, Head of Regional Sales Germany at DB Cargo, also welcomes the partnership. "By reorganising our regional sales, we can have a bigger presence locally with customers in the region. We're very committed to ensuring that regional companies like Autoverwertung Möck have access to the railway and receive the best possible support, in this case through the Mannheim sales team. This includes reactivating existing infrastructure and also putting into operation those routes that are not yet among the most profitable. For us, cooperation between sales and production is a key success factor for customer satisfaction." Marie and Jürgen Möck are sure of one more thing, however: without additional political support, the modal shift will not succeed.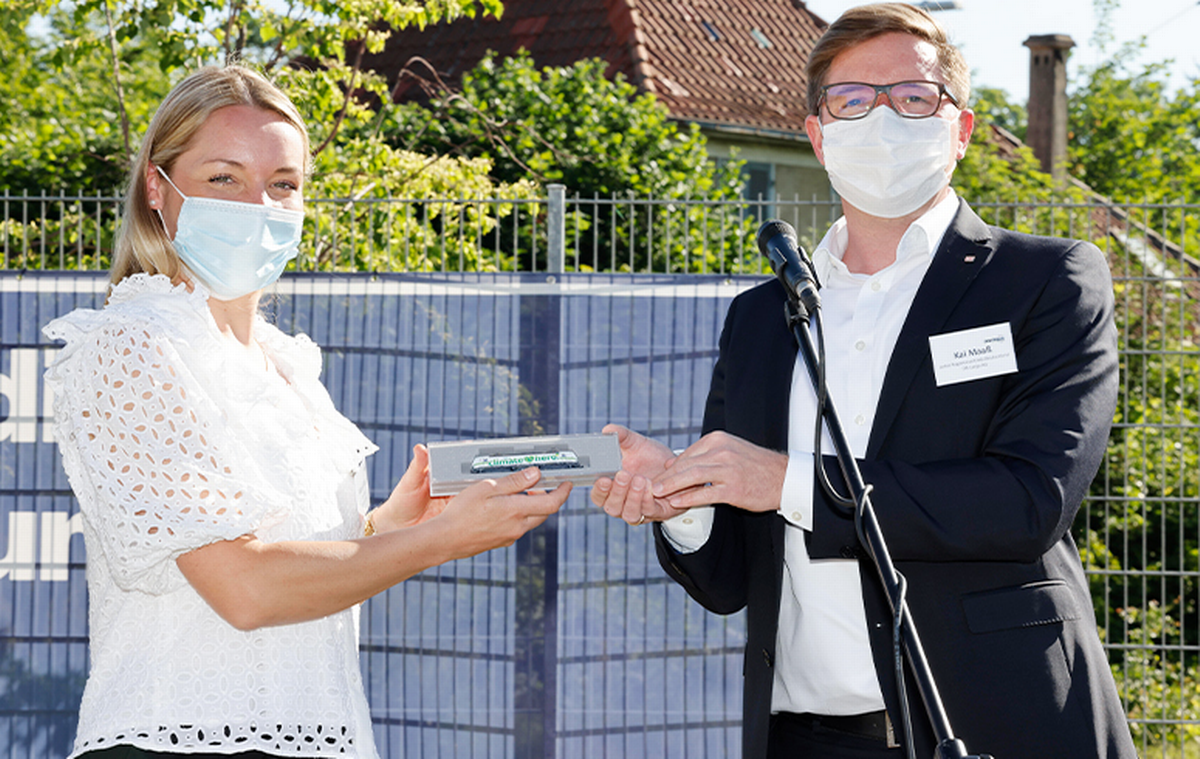 Marie Möck and Kai Maaß from DB Cargo. Copyright: Thomas Klink