The stated aim of Europe's politicians is to get more freight onto the rail network to reduce pollution and achieve climate protection targets. By 2030, we want to cut CO2 emissions by 50 million tonnes. We are approaching this target in many different ways, such as strengthening our European network, concentrating on providing easier access to the rail system and creating attractive services in Germany, Europa and Asia.
13 corridors criss-cross Europe
To make this happen, we are thinking on an international level in the form of cross-border corridors. We look at our trains from a holistic perspective and entrust service management in the corridors to international teams. When assembling a team, we make sure it has the necessary decision-making authority for its particular corridor, and the progress of a train along a given route is monitored by these independent regional units. This facilitates seamless coordination that helps to make our services even more reliable. Our rail link between Germany and the Mediterranean region are a case in point. The high-frequency shuttle for cranable megatrailers, swap bodies and containers goes back and forth between Saarbrücken and Perpignan five times a week, with an extension to Cologne four times a week. The train needs less than 24 hours to cover a distance of up to 1,000 kilometres reliably without traffic jams or rest periods. What's more, the main leg of a transport is exempt from tolls.
An overview of all our corridors is available here.
12 shuttles for every sector
Our shuttles also provide fast and reliable links that use selected routes and a set timetable. They are optimised for specific sectors: the Burghausen Shuttle, for instance, runs between Bavaria's "Chemicals Triangle" and the ports of Hamburg and Bremen by way of our hub at Maschen. Then there is the Slovakia Shuttle, which provides a fast and direct service from Germany to the eastern Czech Republic and then on to Slovakia. Operating six times a week and requiring just 24 hours for a journey, our trains start at Halle (Saale), call at the Czech city of Ostrava and end in Žilina in Slovakia, where their freight is transferred to the single wagonload network operated by our rail partners at ZSSK Cargo. Customers can transfer goods to Poland at Ostrava, while the German terminus gives them access to the rest of DB Cargo's extensive network.
An overview of all our shuttles is available here.
Wagon intelligence for all of Europe
Our trains and wagons serve destinations the length and breadth of the continent, so it is important that our services function everywhere that our fleet goes. To make sure of this, we are transforming analogue freight wagons into digital vehicles by fitting them with telematics systems and sensors. In addition, we are giving our customers outside access to our tools and providing them with insights that let them optimise their own delivery processes. Our portfolio of wagon intelligence products provides support along the entire value chain – from dispatching to transportation and, ultimately, to the receipt of a consignment. It's an endeavour that sees us developing the following applications for use throughout Europe.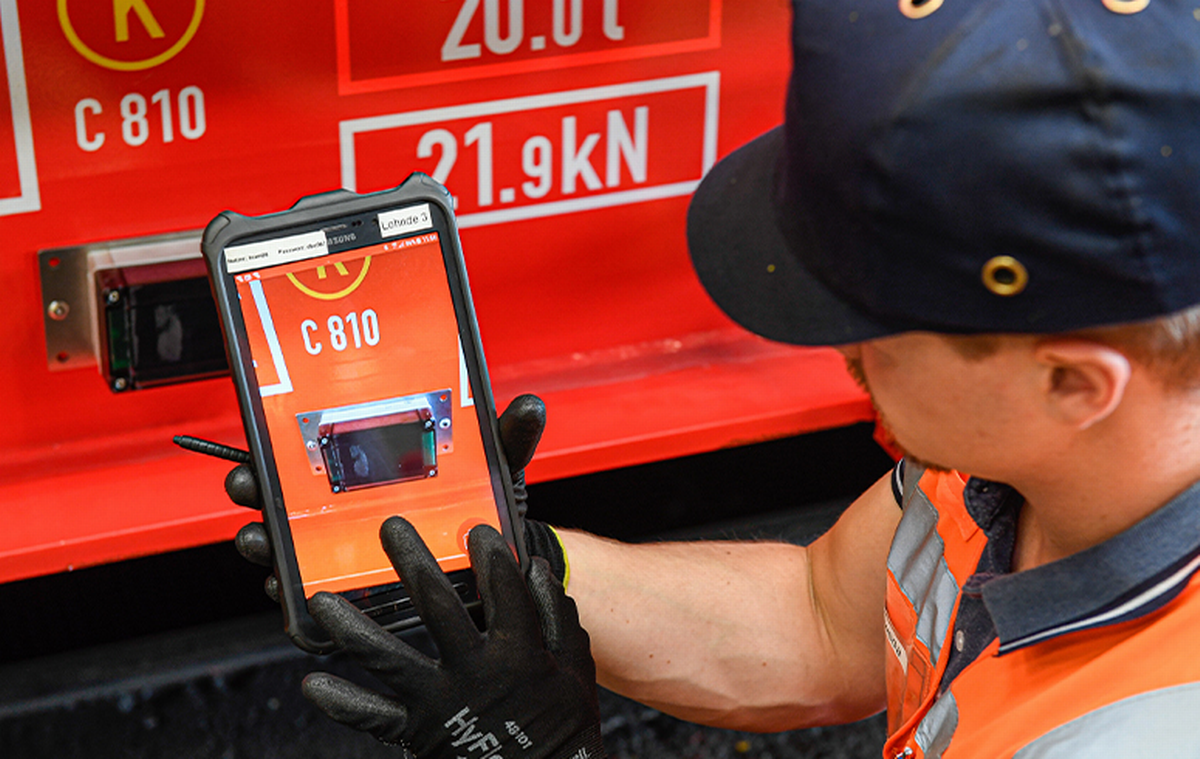 Freight wagons are fitted with telematics systems and sensors. Copyright: Max Lautenschläger
Demand Manager: The Demand Manager gives users a clear picture of wagon requirements, supply movements, the number of wagons at a given site and the status of feed activities. This makes it possible to generate accurate estimates for sourcing empty wagons in line with current requirements and over the coming days.
Geofence Control: Geofence Control draws a digital boundary around a customer's premises. Within this area, wagons can be identified using GPS data. Users get an overview of each wagon's number, location and idle time. They automatically receive a warning when standing times are due to expire, which saves them demurrage charges. This function will be available to customers from summer 2021.
Wagon Data: Near-field communication (NFC) and radio frequency identification (RFID) sensors give users quick, digital access to information about the wagons on their premises – potential loads and load limits, for example. This makes it possible to make maximum use of each wagon category's load potential, systematically monitor the loading process and optimise this activity. Over 95% of freight wagons have already been fitted with the necessary technology.
Destination Control: Destination Control builds on data intelligence to provide information about capacities at unloading points and recipients' facilities. This gives the consignor greater planning certainty while also improving resource allocation at the unloading point, making it possible to avoid bottlenecks.
Track & Trace: We tell customers a consignment's estimate time of arrival and proactively report any changes. We do this by evaluating satellite, geolocation and sensor data and using artificial intelligence to merge it with information from infrastructure managers. This enables us to generate a status update whenever necessary and then forward it to a customer's own system via an interface.
More information about DB Cargo's wagon intelligence systems are is available here.
Assessing the advantages of our DBwestports express
Our world doesn't end at Europe's borders. Not only do we connect economic centres in Europe, we also link them to the continent's major ports of Antwerp and Rotterdam – this gives them access to the entire globe. The DBwestports express and AlbatrosExpress West from TFG Transfracht offer three key advantages: flexibility, connectivity and quality. Sebastian Schilling, Head of European Sales and Corridor Development at DB Cargo, explains the situation well in this video: