DB Cargo Italia is pushing ahead rapidly with upgrades to its transport network in Italy,  putting economical and eco-friendly logistics to work at the new, state-of-the-art Lesegno freight station. 
 
The DB Cargo subsidiary is greatly expanding its network for single-wagon freight in Italy to support customers such as the steel producer Riva Acciaio with customised logistics solutions for combined transport. The company has a long history of steel transport in Italy, having shipped over a million tonnes up to the beginning of 2022.
 
Switching to rail transport is easy for the Riva Group as it already has a private siding. In mid-May, the first flat wagon loaded with steel sections set off from Lesegno in the Piedmont region of northern Italy to its destination in Emilia-Romagna. 
Reliability with Strong Rail
But how does the process actually work at Riva Acciaio? The freight wagons are unloaded at the Lanzi railport, and a freight forwarder delivers the goods over the last mile by lorry to the Riva Group's end customers. The result is a perfect symbiosis of road and rail. As Sarah Erian from International Sales Italy at DB Cargo Italia Services says: "All of our customers have a fundamental interest in improving their processes and making a real contribution to reducing CO2 emissions. That also explains their increased commitment to getting more of their freight onto the rails." Green rail is flourishing because it creates the best conditions for reducing CO2 emissions.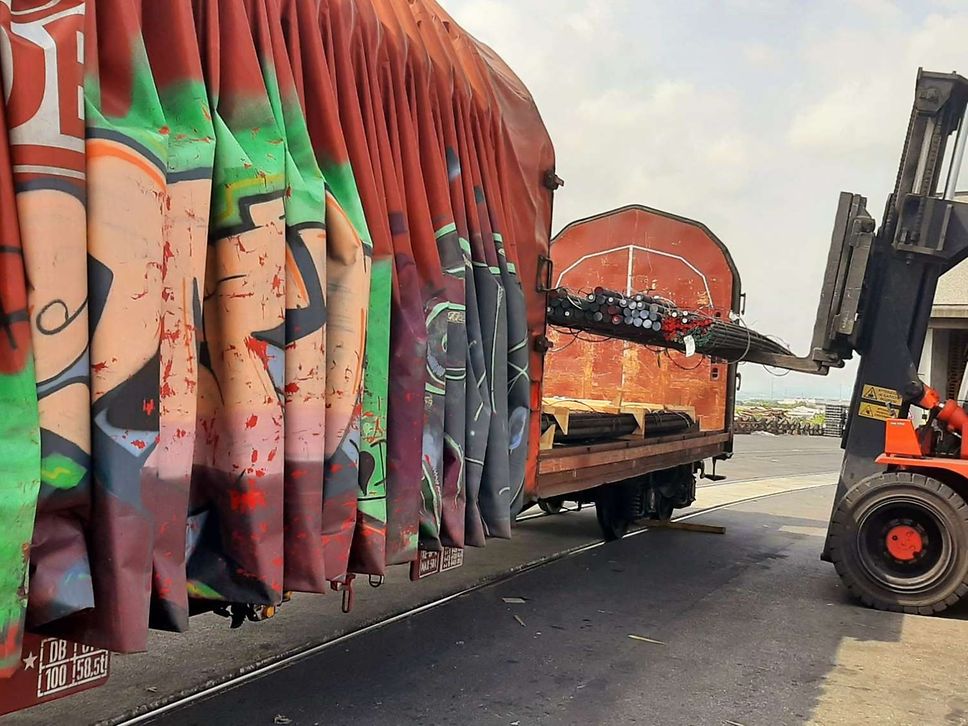 Castelguelfo: a modern railport
With its showpiece logistical flexibility and up-to-date technology, the Castelguelfo freight station is a hotspot for combined transport. Paolo Volpe, Marketing Manager at DB Cargo Italia Services, emphasises the railport's function as a "multimodal platform". DB Cargo adapts its customers' shipments to their individual needs. "The equipment used is suitable for the specific type of goods being unloaded, and onward carriage is combined with a door-to-door solution," Volpe says, meaning that a lorry transports the goods over the last mile to the factory gate. The new Castelguelfo railport ensures maximum reliability with sufficient capacity.
More steel, more routes, more transports in Italy
Sarah Erian is positive about the future: "We're planning more projects like the one in Lesegno, so continued growth in our transport activities in Italy traffic won't be restricted to steel; there may also be new arrival and departure points or even new rail links," she says.  
Transport network in Italy  

The DB Cargo Italia network, including the steel unit, currently covers all of Italy, from the north to cities such as Maddaloni, Naples and Salerno in southern Campania. It also runs the length of central Italy – an unmistakable sign of the DB Cargo affiliate's strong presence in the country.  
Get in touch with our expert.