We catch up with Christian Dorn on the second floor of the training centre at DB Training, Learning and Consulting in Frankfurt, just three minutes' walk from Frankfurt West train station. He's just come from a meeting. Laughing and cracking jokes, he's in an ebullient mood as he steps into the virtual reality room. His diary for the day is packed, and he only has 45 minutes to spare. The 37-year-old educator's enthusiasm for virtual reality (VR) and augmented reality (AR) is contagious. It is thanks to this well of enthusiasm that Dorn and his colleagues have turned VR from a technology of the distant future into something that DB Cargo is steadily implementing here and now. A senior project manager in the New Learning Solutions team at DB Training, Learning & Consulting, he is developing new models for learning.
New Learning Solutions – partners for digital learning
The New Learning Solutions team supports DB Cargo in the development, implementation and evaluation of content, media, platforms and methods related to digital learning. The team consists of educators, web-based training (WBT) specialists, graphic designers and digital experts who all collaborate with a network of specialised service providers. Working together, they design and bring to life a wide range of learning solutions with the aim of finding the best possible platform for educational content and objectives. Holding a controller in his left hand and a pair of VR goggles in his right, Dorn stands in front of a flip chart displaying diagrams and tables: "Three years ago, DB Training, Learning & Consulting began working with the engaging virtual education (EVE) team at DB Systel to tackle VR and AR in an educational context," he says proudly. "All along the way, we've worked closely with the various business units at the DB Group and at DB Systel to develop all kinds of VR scenarios."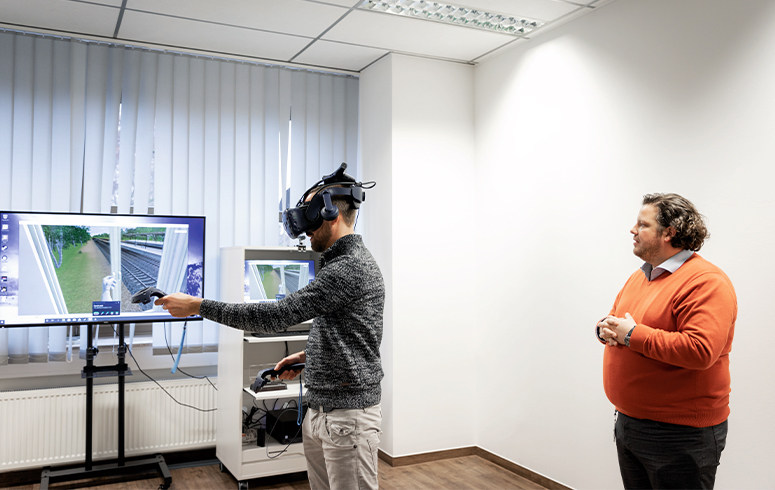 By the end of February 2020, ten locations across Germany were equipped with mobile VR technology. Hundreds of employees gained access to training scenarios which use VR as a supplementary learning modality. Nico Wiegand, who recently changed careers, is one of those employees. Having originally studied retail sales management, he decided to realise his dream of working in a technical field and completed a driver training program at DB Cargo.
New learning solutions
As part of DB Training, Learning & Consulting, New Learning Solutions provides end-to-end assistance in fields that range from consulting, design and production to implementation and evaluation of digital training plans
68 training locations
3,000 external clients
6,000 Group clients
26,000 sessions
270,000 participants each year
Read more about New Learning Solutions here (German only). 
Digital platform for goal-oriented learning opportunities
31-year-old Wiegand is from the German town of Berka in western Thuringia. He dons a pair of VR goggles and picks up a controller. His task is to practice coupling a locomotive to a freight wagon. Normally, this would mean taking to the rails on a real train. Instead, he's training in a virtual environment. Dorn launches the program and watches Wiegand's every move on the monitor. Talking to him about VR- and AR-based training scenarios for employees, it is quickly apparent that digitalisation will leave no HR department untouched.<br />It's a true digital transformation. Dorn believes the role employees play is crucial. That is why the New Learning Solutions team is focussing on two critical aspects: "Firstly, all the media we deploy is being developed based on pedagogical standards and in line with didactic principles. Secondly, our mission is to use innovative solutions not only to achieve learning objectives, but also to make a lasting improvement to the learning experience for our trainees."
Simulating hazards helps avoid real-world accidents
Virtual scenarios are generally designed to prompt learners to interact with their virtual environment. "VR capitalises on its strengths when learners feel like they are actually part of the action in a given scenario", says Dorn. "Another benefit of VR is that it allows us to present situations that we can't easily recreate in real life." These include scenarios that would be dangerous in the real world
Benefits of technology are front and centre
Using VR, learners become comfortable moving through work processes in an accessible environment. They can then build on these skills going forward. The equipment involved is often difficult to access for training purposes, making hands-on training sessions extremely difficult, says Dorn. "This is a particular problem with heavy plant and machinery. VR makes it easier to learn about these things, which is a huge help." In the end, what counts is the benefit the technology provides in a given training scenario and not the use of technology as an end in itself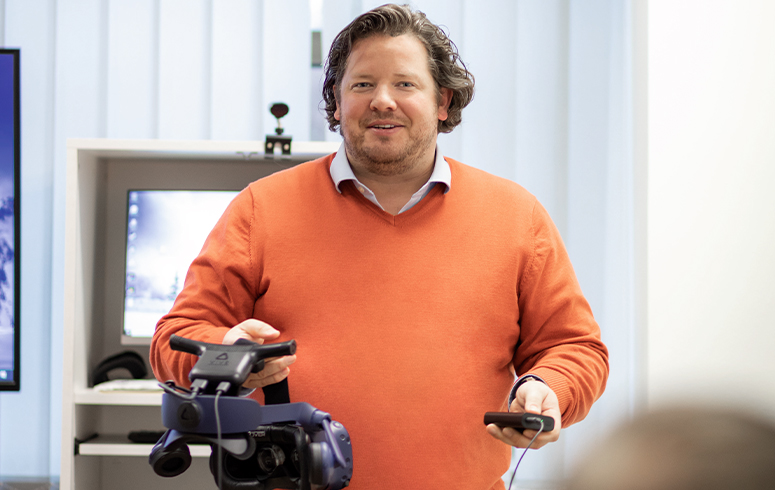 He glances at the clock and excuses himself right on schedule – it's time for his next meeting. As he leaves the room, he can't help but briefly muse about the future of digital learning: "Once there's enough 5G network coverage, I think we'll be having completely different conversations about mobile AR. We'll be able to use AR to present learning content on mobile devices regardless of where users are. 5G coverage will create fantastic new opportunities for learning in the workplace."
Christian Dorn
Senior Project Manager New Learning Solutions, DB Training, Learning & Consulting
christian.c.dorn@deutschebahn.com