Together with the new Container Terminal Osnabrück (CTOS), TFG Transfracht is shifting more cargo away from the roads and onto Strong Rail. The DB subsidiary is broadening its range of services on shorter routes, known as "shortland feeders". CTOS has been served by TFG Transfracht freight trains since January 2022. Starting in September, the frequency of service between Osnabrück and Hamburg and to the seaports of Wilhelmshaven and Bremerhaven was boosted from six departures per week to eight. 
Logistics on the way to climate neutrality
The Hamburg–Osnabrück route alone shifts up to 40,000 TEUs a year from road to rail. This reduces the burden on road infrastructure while actively fostering a climate-neutral supply chain. The scheme keeps up to 7,000 tonnes of CO2 out of the atmosphere every year. 
What does TEU actually mean?

A TEU is equivalent to a twenty-foot standard container. It is used to measure both the throughput of container transport terminals and the load capacity of ships. 
The transports between Osnabrück and the northern ports are 100 per cent zero-carbon. The TFGeco train product, which runs on renewable power, makes this possible. CTOS itself is powered exclusively by green electricity, too. This makes every journey and every load an investment in the environment and a smaller carbon footprint.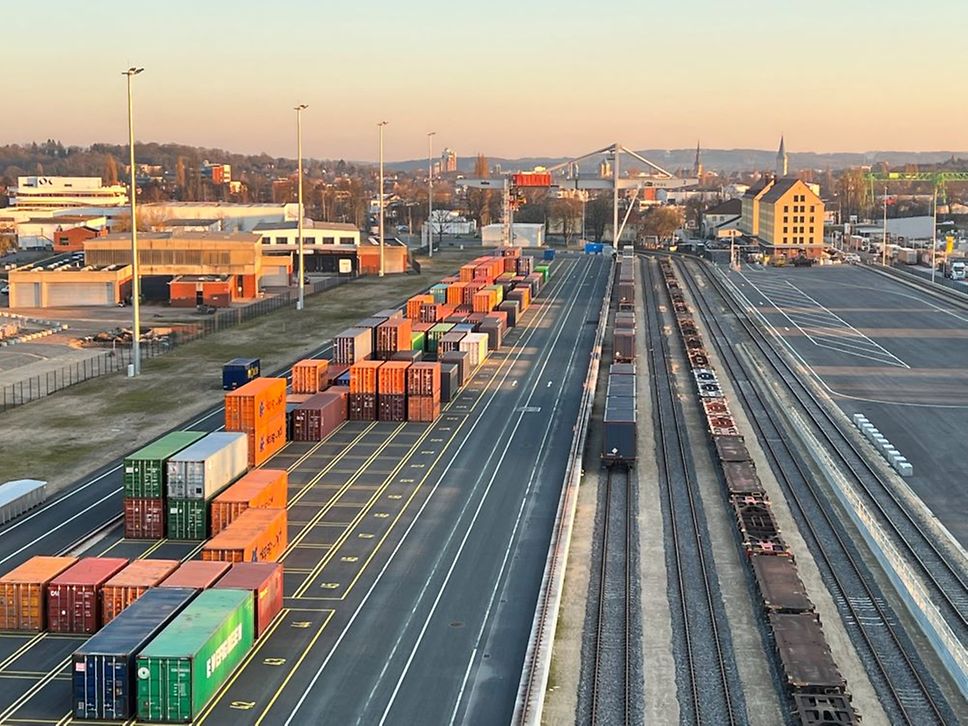 An innovative site for more efficient container handling
CTOS has been housed at the old Osnabrück port site since autumn 2021. Container handling at its large railway sidings makes full use of modern technology and digitalisation. Gantry cranes hoist the containers onto the freight trains. 
The facility's capacious grounds boast a storage capacity in excess of 6,000 TEUs for customers to park their goods temporarily when the need arises. This is a particularly valuable service in a time of crisis when many warehouses are short of capacity. CTOS benefits from the potential of the Osnabrück area, where many large trading companies and logistics providers have settled. 
International seaports: Gateways to the world
TFG Transfracht's AlbatrosExpress provides a round trip service to a range of seaports, all hotspots for international container handling. This means that the train travels first from CTOS to the relevant seaport to unload its containers, and afterwards, the goods are returned to Osnabrück, where they are stored or sent directly to customers by truck over the last mile.
Sustainable road transport is also guaranteed


TFG Transfracht delivers sustainable combined transport from the first to the last mile. By booking the TFGeco truck product, customers can offset 100% of their road transport emissions. This is achieved through investment in international environmental protection projects to compensate for any unavoidable carbon emissions. A certificate documents the emissions and shows how much carbon has been offset.   
Get in touch with our expert now.