Rail holds the key to decarbonisation. That's why we are setting up zero-carbon supply chains for business, simplifying eco-friendly logistics and cleverly weaving together rail and road options. We already run 3,600 trains daily, taking over 90,000 lorries off the roads, and keeping seven million tonnes of CO2 out of the atmosphere. After all, freight trains produce around 80% fewer emissions than lorries and 40% less CO2 than inland waterway vessels. In combined transport, we are aiming to save 50 million tonnes of CO2 by 2030. This is equivalent to taking a large coal-fired power plant offline every year. To get there, we need an intelligent mix of rail and road, and we are working hard to tamp down CO2 emissions in other ways, too, wherever possible. Our DBeco plus product already lets customers transport freight carbon-free along all electrified lines in Germany and Austria. To do this, we determine the exact energy requirements for a given transport, and we buy that same amount of green electricity from renewable sources. DBeco neutral also offsets those CO2 emissions that are unavoidable, such as from first and last mile services by lorry.
TFG goes Green
We also push the benefits of rail to the limit in cooperation with our partners, further expanding our portfolio. Together with TFG Transfracht and its product TFGeco train product, we enable our customers to transport freight by rail - 100% carbon-free. The AlbatrosExpress trains alone replace around 600,000 trips by lorry each year, sparing the climate from some 400,000 tonnes of CO2. TFG also helps protect the climate in last-mile transport by lorry and only uses low-emission, low-noise and energy-saving vehicles. But that was just us getting warmed up – now we're really kicking it up a notch. One hundred percent of unavoidable emissions such as those from first and last mile service on the road, are neutralised by TFGeco truck. Climate protection certificates offset the carbon emissions generated by transport. At the same time, additional sustainable projects are supported that aid the expansion of renewable energies and reduce CO2 emissions.
DB Cargo does more
"Saving energy is deeply embedded in DB Cargo's DNA. Our ambitious climate targets can only be achieved by combining technical, operational and organisational measures to raise efficiency. We have already taken a huge step in the right direction by procuring multi-system and bi-mode locomotives and gradually replacing diesel-only locomotives. We have one of Europe's most cutting-edge fleets of traction units to show for it. Apart from the continuous modernisation of the fleet, our focus is also trained on digitalisation and automation and further technical innovations. Today, for example, more than two thirds of our electric traction units are already equipped with a driver assistance system to save energy", says Jörg Schneider, Head of Development & Best Practices and Head of the Energy Management Project at DB Cargo. To sum up, we are fiddling with a lot of little dials that have a big cumulative effect.
DB Cargo's locomotive strategy – big, green and powerful
The consistent and sustainable reduction of carbon emissions is a mainstay of our strategic alignment. By 2030, we aspire to fully equip 70% of our diesel locomotive fleet with innovative and environmentally friendly drive systems, and by 2050, the DB Group intends to make all its rail services climate-neutral. "With our vehicle strategy, we are putting our focus on the performance and future viability of locomotives. The sustainability and climate bona fides of our transport solutions are also crucial to this. The decarbonisation of our locomotive fleet is an important lever for achieving our goals", says Thomas Jäger, Senior Vice President Assets & Technology DB Cargo AG and CTO DB Cargo.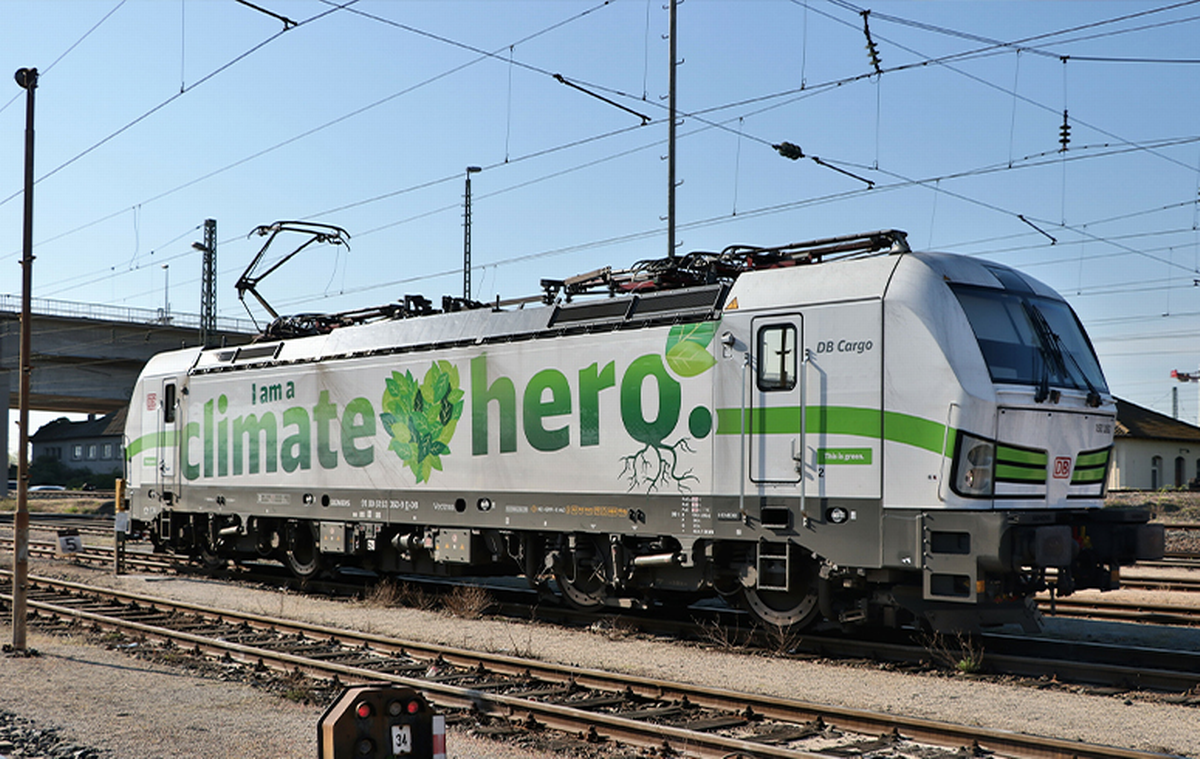 Our ambassador for climate protection: the "I am a climate hero" locomotive. Copyright: Steve Wiktor
DEHLo – emission-free train formation
We are currently having vehicle manufacturer Toshiba develop innovative diesel hybrid shunting locomotives (DEHLos) to ensure operations in the shunting yards are environmentally friendly. The locomotives are equipped with a powerful, new type of traction battery system. This enables them to run emission-free at the lower speeds that predominate at formation yards and customer sidings.
Dual power locomotive – green to connect whenever possible
Another facet of our vehicle strategy is about operating in overhead line mode whenever possible, which is more environmentally friendly. The new environmentally friendly Vectron Dual Mode bi-mode locomotives use both drive modes: they can run with diesel engines or electrically on routes with overhead lines. This flexibility slices diesel consumption and CO2 emissions. Using the new locomotives, DB will drop its fuel consumption by some eight million litres a year while also generating 17,000 fewer tonnes of CO2. The bi-mode locomotive runs with zero local emissions. We initially ordered 100 class 249 locomotives – the framework agreement allows for a volume of up to 400 vehicles. "In line with our motto 'Big, Green and Powerful', we offer our customers powerful and environmentally friendly transport solutions with our innovative vehicle concepts such as the hybrid and dual-power locomotives," said Ralf-Günter Kloss, Board Member for Production, DB Cargo AG.
LEADER – developed for and with train drivers
In the fall of 2016, we became the first European freight operating company to put Knorr-Bremse's LEADER driver assistance system into operation. The "LEADER" system (Locomotive Engineer Assist Display and Event Recorder) works like a personal assistant. An additional display in the driver's cab sends recommendations to the driver about what speed is as energy-efficient as possible. Based on train data, the timetable and the elevation profile of the route, recommendations for driving are calculated and displayed in real time to help trains save energy and show up on time. The live information that LEADER displays gives train drivers an even better overview of the train's operations. It equates to further capacity to help reduce power consumption, easing further the burden on the environment. More than 650 traction units of the electric locomotive series 145, 152, 185 and 187 are outfitted with LEADER. By consistently involving our locomotive drivers in the further development process, in 2020 we were able to achieve average energy savings approaching six percent across all locomotives equipped with LEADER. In so doing, we are helping to prevent the emission of over 12,800 tonnes of CO2.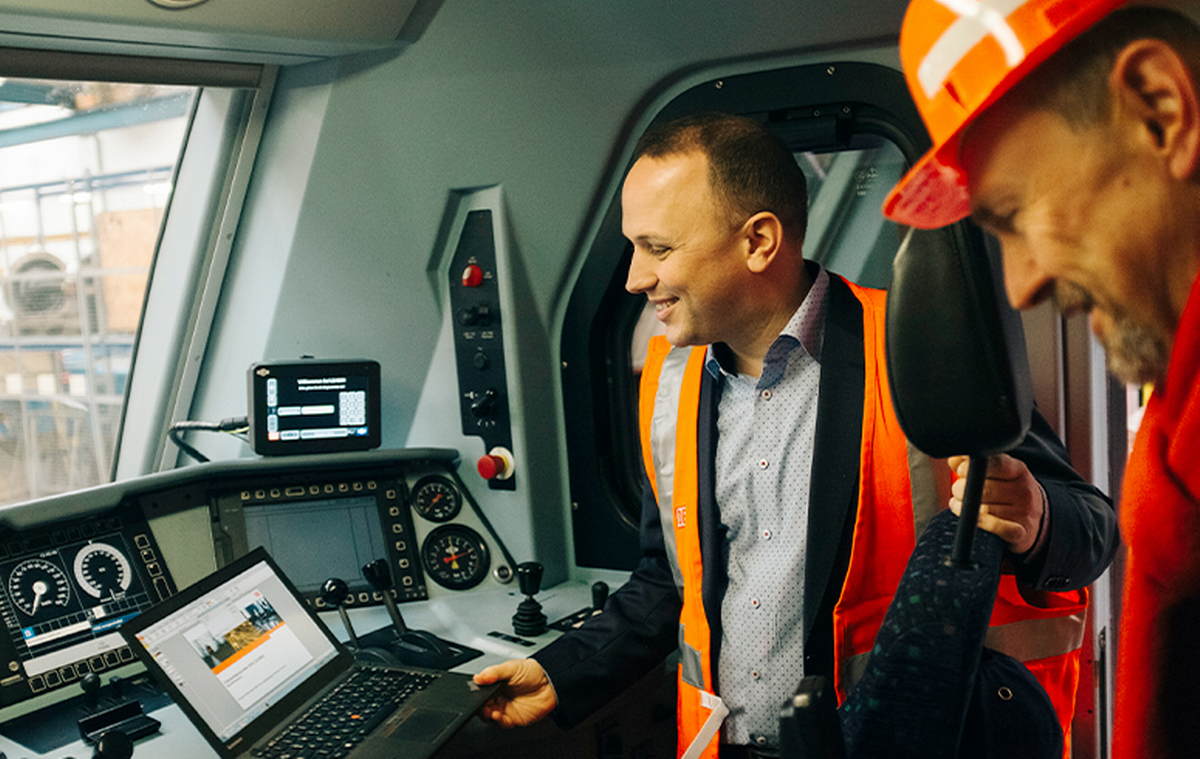 The "LEADER" system (Locomotive Engineer Assist Display and Event Recorder) works like a personal assistant. Copyright: Kiên Hoàng Lê
See our experts interviewed on video
We asked Meike Hillenbrand, Sustainability Manager at DB Cargo, and Jörg Schneider, Head of Development & Best Practices and Head of the Energy Management Project at DB Cargo, what makes us so green and how we will achieve our goals by 2050. You can see their answers in the video here: