Our single wagonload service moves some 15,000 wagons to all kinds of destinations, including privately owned sidings. Similarly, our combined transport operations enable 1,500 freight trains and their loads to reach their final delivery points, using door-to-door services when necessary. One simple idea underpins all of these services: we want to make logistics as straightforward as possible. Our system of a single contact person for multiple services benefits companies whether or not they have a private siding.
Make the most of the rail network's advantages and see if DB Cargo's portfolio is a match for your needs. Together, we can reach national and international climate targets. Staff at our regional sales unit will help you to find the solution that suits you best.
Door-to-door
Rail or road? Many companies don't have a preference – the most important thing is that transport is fast, and that freight gets from A to B with minimum bother. This is DB Cargo's mission, too. It doesn't matter whether you have a one-off consignment or an entire train's worth of cargo, whether you need containers or freight wagons. We take care of everything: first and last mile by lorry and transhipment at terminals or railports. Once your goods are on a train, they are free of the traffic delays encountered on Europe's motorways. And on top of it all, the service is greener than anything road haulage can offer.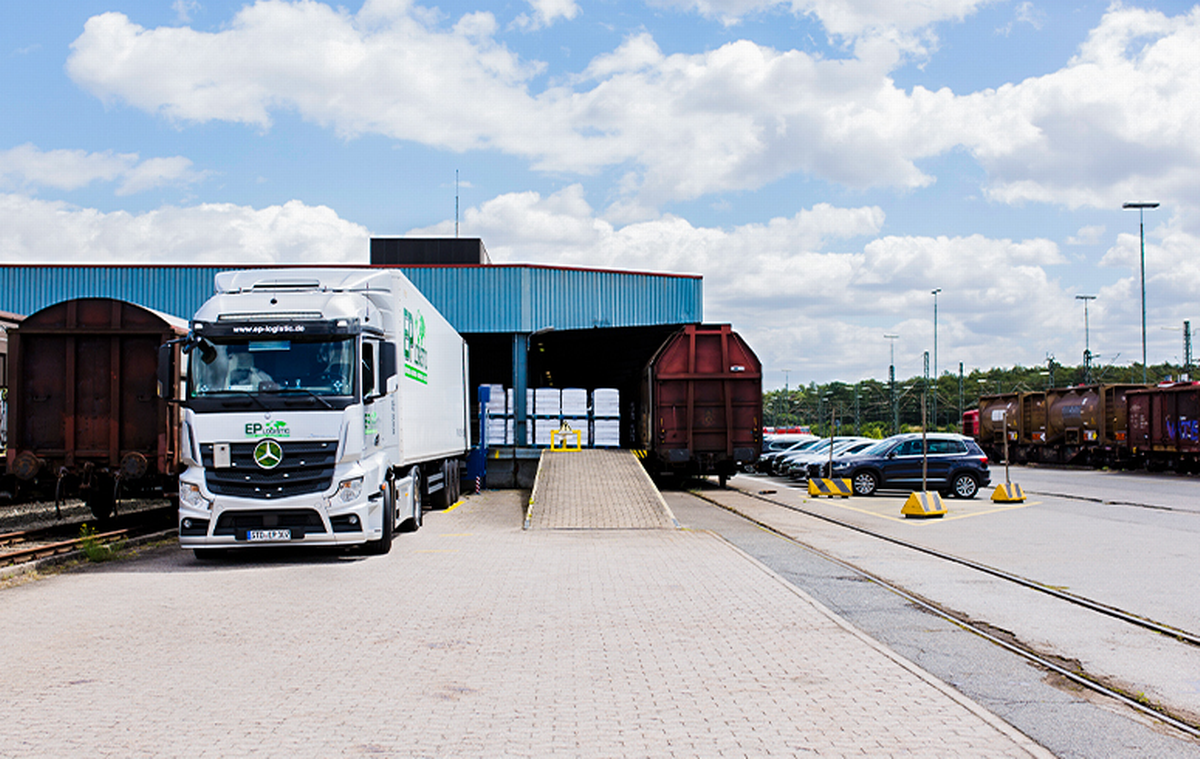 We take care of everything: first and last mile by lorry and transhipment at terminals or railports. Copyright: Michael Neuhaus
From express connections to scheduled services, all our transport options are open to customers. We can cover even long distances with overnight connections, avoiding congested roads and other complications. Take our door-to-door product Singlewagon plus: it means that trains can now offer real competition to purely road-based haulage. Customers in the consumer goods sector are already making extensive use of this solution. Then there is our brand-new online shop for Singlewagon plus: it makes using the rail network as easy as internet shopping. Learn more about Singlewagon plus and the online shop.
The perks of a private siding
Companies that routinely need to move large volumes of heavy freight can guarantee smooth operations by using their own private siding. Having your own connection to the wider rail network means that neither road chaos nor CO2 taxes can undermine your efficiency and profitability. It also gives you longer to load and unload cargo, which allows you to tailor your planning to better suit your company's specific needs.
Fifty-fifty financing for companies
Experts from DB Cargo will be at your side to provide advice with planning and help you apply for funding. Since March 2021, the German government will cover up to half of investment costs for private sidings.
Funding is available for companies that want to invest in
constructing,
upgrading,
reconnecting or
replacing
infrastructure that shifts freight to the rail network or keeps it there.
Your route to the rail system:
Terminals
We use our network of 150 terminals across Europe to provide our customers with transhipment, storage, factory logistics and support services in connection with maintaining, cleaning and stabling containers and wagons.
Railports
Customers without private sidings can rely on our network. Across Europe, our conveniently located railports provide access to the rail system at over 100 different sites. Other services such as warehousing are also available.
Private sidings
There are 4,200 private sidings in Europe. This figure is growing as a result of the new funding programme.
You can find even more info, brochures on private sidings and regional sales here.