Rail enthusiasts for Ukraine: well-known model train dealer Menzels Lokschuppen & Töff Töff GmbH from Düsseldorf and DB Cargo have responded to the situation in Ukraine by joining forces to quickly launch their own fundraising campaign.
17 August: Major donation of EUR 58,600 handed over

DB Cargo and Menzels Lokschuppen have marked the end of their fundraising campaign for the Deutsche Bahn Foundation's Ukraine aid programme by handing over a cheque for EUR 58,600. Dr Martell Beck and Thorsten Meffert from DB Cargo and Stefan Nückel from Menzels Lokschuppen & Töff Töff GmbH presented the cheque to Jenny Zeller and Dr Hella Schmidt-Naschke from the Deutsche Bahn Foundation at Berlin Central. 

The amount was raised from the sale of 586 model locomotives in humanitarian rail corridor livery. The locos could be purchased for EUR 100 each. 

The entire rail freight community can be proud of this fundraising campaign. 




9 June 2022: Advance sale completed

A complete success: A whole 584 model locomotives in the "Rail Bridge Ukraine" look were sold as part of our joint fundraising campaign with Menzels Lokschuppen. This means that we can hand over a proud 58,400 euros as a donation to the Deutsche Bahn Foundation. Together with all our colleagues, partners, hobby railway enthusiasts and model building enthusiasts, we are very pleased to be able to use this sum to support the people fleeing the war and to provide targeted help. The locomotives will now go into production and are expected to be delivered in October.
100 euros donated per locomotive
The model railway shop Menzels Lokschuppen is launching a model locomotive to accompany the campaign. The design is modelled on the DB Cargo locomotive used by DB to transport aid to Ukraine. From the sale proceeds, 100 euros will be donated to the Deutsche Bahn Foundation for each locomotive sold. The donations will be used to support people fleeing the war and provide targeted aid. 
About the DB rail aid link

Deutsche Bahn has set up a logistics network to transport humanitarian aid supplies from Germany to Ukraine. The logistics teams from DB Cargo, DB Schenker and DB Transa-Spedition are working hand in hand to achieve this. Urgently needed goods such as food, drinking water, warm clothing, and sanitary and medical products are being transported directly to the country by freight train using the DB rail aid link. The donations are collected in lorries in Germany, loaded into containers and transported across the border to Ukraine on board freight trains operating on DB Cargo's European rail network.
Deutsche Bahn Foundation: national and international aid for Ukraine
With their fundraising campaign, Menzels Lokschuppen and DB Cargo are helping to support the Deutsche Bahn Foundation's Ukraine aid efforts. Together with its close partner of many years, the Travellers' Aid Society, the foundation is currently providing emergency humanitarian aid directly on board trains and at stations in Germany to support, advise and offer guidance to the arriving refugees. The Deutsche Bahn Foundation also provides humanitarian aid internationally for people fleeing the war in Ukraine with the help of experienced partners and DB's own logistics expertise. The foundation plans to transport medical supplies, medical equipment and medicines to a hospital in western Ukraine later this month. The foundation will also be supporting educational and psychosocial services for refugee children and adolescents.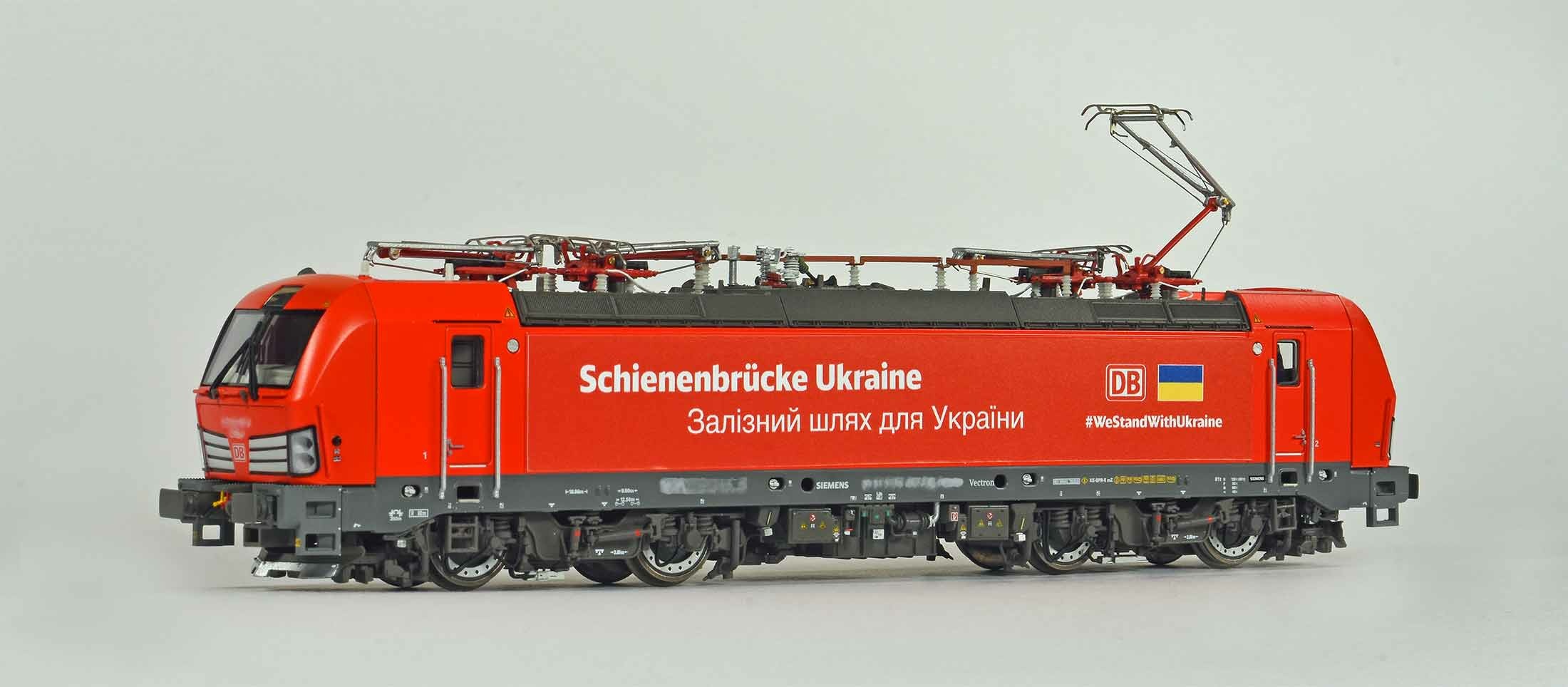 Would you like to purchase one of the locomotives? The model locomotives from the fundraising campaign are available from the DB shop (German only) and, of course, from the Menzels Lokschuppen online shop. Advance sales started on 12 April and will run through 31 May 2022; delivery of the locomotives will begin in October 2022.